IN PASSING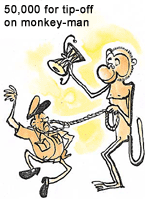 by Sandeep Joshi
Athlete commits suicide
Patiala, May 18
National woman athlete Kuljit Kaur committed suicide at her Urban Estate residence here late yesterday evening. Kuljit Kaur, a contemporary of athletic icons like P. T. Usha and Shiny Abraham, represented Punjab in various national athletic meets.
Goa minister's car impounded
Sundernagar, May 18
A car which was carrying the family members of the Panchayati Raj Minister of Goa, Mr Babu, on which the "Tricolour" was hoisted, was impounded by the Chief Judicial Magistrate, Kulu, on May 15 when he was checking traffic with other staff.



Himachal to regularise 11,200 employees
Special fee for registration numbers of choice
Shimla, May 18
The Himachal Pradesh Cabinet today decided to regularise the services of 11,200 work-charged employees in the Public Works and the IPH Departments, approved the guidelines for environment protection and decided to charge a special fee for registration numbers of choice for vehicles.
Cabinet expansion in early June
May 18, 2001
Kashmir issue bilateral
May 17, 2001
President not consulted on Jaya's installation
May 16, 2001
Jaya sworn in CM
May 15, 2001
AIADMK, Cong, Left Front back in power
May 14, 2001
2 Hinduja brothers allowed to go abroad
May 13, 2001
Decision on CDS deferred
May 12, 2001
Poll violence claims 13 lives
May 11, 2001
4 states go to polls today
May 10, 2001
Laloo, Mishra may be arrested today
May 9, 2001