IN PASSING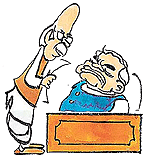 Today Chautala happy but Badal unhappy, Ajit fine but George upset, Panja cool but Naidu...
by Sandeep Joshi
SAD puts off decision on RS nominee
Chandigarh, May 22
While the President of the Shiromani Akali Dal, Mr Parkash Singh Badal, today postponed the decision to select the party's candidate for the vacant Rajya Sabha seat to May 29, the president of the Punjab unit of the BJP, Mr Brij Lal Rinwa, accompanied by other members of the party's election committee, left for Delhi this evening to build up pressure from the BJP high command on Mr Badal to allocate the seat to the BJP.
64 Khanpur residents booked
Kharar, May 22
Uneasy calm prevails in Khanpur village which falls in the Kharar municipal limits where several persons, including police and women, were injured in a clash yesterday.



Death for rape, murder of daughter
Rohtak, May 22
The Additional Sessions Judge, Mr Shiva Sharma, has today awarded death sentence to Rewa Singh, resident of Titoli village, near here, for murdering his six-year daughter Pooja. According to the prosecution, Pooja was first raped by her father Rewa Singh, a soldier in the Indian Army, and then killed her for self-preservation.
Samata leaves it to George
May 22, 2001
Samata reschedules executive meeting
May 21, 2001
Decision on J&K truce extension soon: Advani
May 20, 2001
Badal pleads for 'blacklisted' Sikhs
May 19, 2001
Cabinet expansion in early June
May 18, 2001
Kashmir issue bilateral
May 17, 2001
President not consulted on Jaya's installation
May 16, 2001
Jaya sworn in CM
May 15, 2001
AIADMK, Cong, Left Front back in power
May 14, 2001
2 Hinduja brothers allowed to go abroad
May 13, 2001