IN PASSING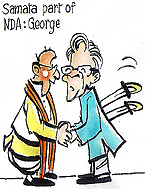 Hope you recover soon!

by Sandeep Joshi
Kenyan High Commission writes to varsity
Amritsar, May 23
The Kenyan High Commission has written to Guru Nanak Dev University for securing en masse admissions in professional courses (undergraduate level) in various colleges affiliated to it.
Case registered against Bhattal
Bathinda, May 23
A case under Section 13 of the Prevention of Corruption Act and Section 409, was registered against former Chief Minister Rajinder Kaur Bhattal at vigilance bureau police station, Ferozepore, last night, allegedly for bungling in the Chief Minister's Relief Fund.
Pak plans new infiltration routes
Deploys ISI detachments at LoC
Jammu, May 23
As the tenth biggest arms purchaser among the developing nations in the world, Pakistan has deployed ISI detachments on the LoC and on the International Border for carving out new and safe infiltration routes for militants and arms smugglers. Reports from across the border say that the ISI detachments have been directed to ensure smuggling of heavy weapons and high grade explosives into Jammu and Kashmir.
Samata part of NDA: George
May 23, 2001
Samata leaves it to George
May 22, 2001
Samata reschedules executive meeting
May 21, 2001
Decision on J&K truce extension soon: Advani
May 20, 2001
Badal pleads for 'blacklisted' Sikhs
May 19, 2001
Cabinet expansion in early June
May 18, 2001
Kashmir issue bilateral
May 17, 2001
President not consulted on Jaya's installation
May 16, 2001
Jaya sworn in CM
May 15, 2001
AIADMK, Cong, Left Front back in power
May 14, 2001