Single moms find little social support
K. Damayanthi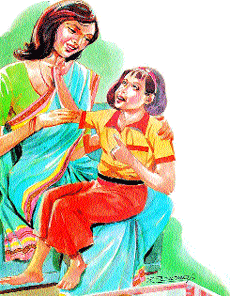 MANPREET'S story is not uncommon— a violent husband steeped in alcohol, gambling and drugs. But her determination to overcome all odds — financial crisis, unemployment, in-laws' pressure — to fulfil her pledge to give her daughters a better life is laudable. Today, she is a single mother supporting her two daughters, ensuring their education and is even helping out other women suffering from a similar plight.
Notwithstanding the rising number of single mothers, society has yet to come up with adequate support systems. In the absence of their husbands, single mothers, who while undergoing a process of emotional healing to deal with the experience of being single, have also to grapple with finances and the logistics of child-rearing.
Along with stupendous responsibilities, a single mother has the added burden of social stigma, since single-mother family units are not easily accepted in a patriarchal society. While acceptability of widows is much higher, people still do not know how to react if a woman is either divorced or separated from her husband. "It is a new situation for this country. Neighbours and relatives do not see this situation as normal," says Deepti Priya Mehrotra, a researcher documenting single mothers' experiences.
"Over the years, these women have gathered an incredible amount of strength. Yet, there is a dire need for emotional and health-care support," adds Mehrotra, who is also a single mother.
For instance, when Lila decided to leave her alcoholic husband, her natal family did not support her. She managed to get a job, but could not retain it, as there was no one at home to look after her four-year-old daughter. Residential schools were either too expensive or too difficult to get admission in. She even tried to admit her child in a boarding school for orphans, but the authorities there asked for the death certificate of her husband. Lila is still struggling for her daughter's admission in various schools in Kolkata.
The major problem with a middle-class single mother is schooling. "Because of the social stigma, school authorities feel that children of single mothers are 'psychologically abnormal' and will, therefore, create problems for students from 'normal' families," says Pratima, another single mother.
"My six-year-old daughter was asked to draw a picture of a family in her class. She drew a mother and a daughter. But the teacher rebuked her in front of her classmates, saying that the family should always have a father," recalls Pratima. "It is time that we changed our notion of an 'ideal' family set-up with a father, mother, daughter and a son," she adds.
According to Mehrotra, both the family and society should be more sensitive to the needs of single mothers, and child-care should be accepted as an important sphere of activity. Mehrotra argues for strengthening creche and day-care centre networks for single mothers from all economic backgrounds. "The special needs of women need to be addressed to. For instance, there should be mobile creches for mothers who are construction workers," she adds.
Interestingly, single mothers from poorer backgrounds have the advantage of a stronger support system. Almost all family members lend a hand with child-rearing, and the responsibility is not the mother's alone. Moreover, neighbours are more friendly and helpful than in middle-class localities. "There is a lot of caring and sharing that takes place in poorer families," says Mehrotra.
Family support, sometimes missing if a woman is single because of divorce or separation, is often forthcoming when the single mother is a widow. For instance, Deepa who lost her husband three years ago lives with her parents-in-law and feels that it is a good arrangement, especially for her children. "I do need some help in looking after the children's basic needs. For example, when the child comes home from school, somebody is there, somebody the child can turn to," she says.
Middle-class women, who often lack family support, seem to make up for it through a network of friends. Chanda, who separated from her husband seven years ago, says she counts on her friends for support. "Perhaps because I am a single parent, my friends make more effort to maintain a closer bond with my daughter than they may have otherwise done," she says.
The impetus to carry on despite severe hardships sometimes emerges from unexpected quarters. As her natal family turned her away, Leela's tiny daughter was her source of sustenance. "It has been very exhausting physically— managing everything from childcare and housework to earning a livelihood. But because she's been around, I could never give in to depression. There was no time. I could not just lie around in bed all day crying," she says.
Social support apart, single mothers need timely and accessible legal help to negotiate the labyrinths of law. Since expensive legal counselling is not a viable proposition for women from the lower and lower-middle classes, mahila panchayats can be roped in for supporting single mothers, suggests Mehrotra. Single mothers also point to loopholes in the law relating to women's rights, like maintenance and custody rights. The need of the day is proper implementation of laws as well as social recognition of the aspirations and capabilities of single mothers who have struggled to bring up their children despite social ostracism. (WFS)