IN PASSING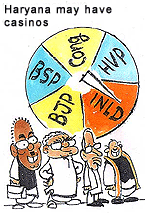 by Sandeep Joshi
Cyclone shows signs of weakening
New Delhi, May 25
Still reeling under the after-effects of a devastating quake, Gujarat faces the threat of yet another natural fury with the Meteorological Department saying that the fears of a severe cyclonic storm hitting the coastline still cannot be ruled out.
Dhumal likely to approach PM on drought relief
Shimla, May 25
Due to the failure of the Centre to provide any relief to the drought-hit Himachal Pradesh where a poor farmer reportedly starved to death in Kangra district, Mr P. K. Dhumal is likely to seek intervention of the Prime Minister for securing Central assistance.



7 family members hacked to death
Burj Sidhwa (Muktsar), May 25
In a bizarre incident, seven members of a family were murdered in their house located in the fields near this village last night. Police sources said Nathu Ram, a labourer, and six members of his family were killed by a suspect who was frustrated over the refusal of Nathu Ram to get his daughter married with him.
Birdhwal ammunition dump on fire
May 25, 2001
J&K ceasefire off, PM invites Musharraf for talks
May 24, 2001
Samata part of NDA: George
May 23, 2001
Samata leaves it to George
May 22, 2001
Samata reschedules executive meeting
May 21, 2001
Decision on J&K truce extension soon: Advani
May 20, 2001
Badal pleads for 'blacklisted' Sikhs
May 19, 2001
Cabinet expansion in early June
May 18, 2001
Kashmir issue bilateral
May 17, 2001
President not consulted on Jaya's installation
May 16, 2001