Explains Soni: "I try to offer value for money, because contrary to popular opinion, socialites do not buy many clothes. Teenagers, businesswomen, students, brides and professionals between the ages of 20 and 40 constitute the bulk of my clientele. My clothes give them a younger and more energetic look."
This amazing success story began in 1986 when Soni started attending Delhiís British School at the age of 15. Till then, his family had been living in Zambia and Soni had studied at a boarding school there. Following his fatherís job transfer to the Middle East, Soni moved to Delhi to stay with his grandparents.
British School did not prescribe uniforms for students and that came as a blessing in disguise for the boy. "As we could wear almost everything, I made a statement with my clothes every day," he recalls, "I went in for every fad, whether it was Michael Jacksonís leather pants or Madonna T-shirts."
He remembers "buying fancy fabric of all descriptions" and sitting with the neighbourhood tailor while going through various fashion catalogues for good designs. He improvised a lot, little realising that he was learning to be a professional designer. He did not even understand then what that term meant.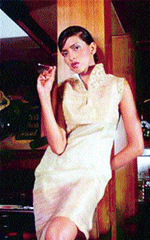 But his father, who saw the potential in his young son, suggested he take up fashion designing full-time after he finished A-levels. At that time, the National Institute of Fashion Technology (NIFT) had just about opened in Delhi and Soni decided to check it out for himself.
Getting admission was not easy. But Soni knew a few designers because he had been modelling for them. "Suneet Verma was teaching part-time in NIFT," he says. "He taught me how to sketch and helped me prepare for the entrance examination." Soni stood third among the 25 who qualified for admission.
NIFT helped Soni tremendously. He learnt the technicalities of the business without which, he maintains, he would have been like a motor mechanic without any formal training. But that wasnít enough to take off. "You need entrepreneurial skills, mental strength and faith in yourself to be a successful designer."
NIFT also helped Soni to link up with the phenomenally talented Rohit Bal and "serve" as his design assistant. The latter took him on as an apprentice with fixed hours of work during evenings and weekends. This stint helped Soni in honing his "practical skills" as he studied during the day at the institute.
After graduating from NIFT, both Soni and J.J. Valaya (his close friend and classmate) toyed with the idea of launching their own labels. In the end, they agreed to let the toss of a coin decide the issue: tail they would continue as apprentices and head, theyíd take off on their own. Head it was.
Thus began a journey of exploring and celebrating the possibilities of Indian fashion. It began with menswear, catering to young celebrities like film star Shah Rukh Khan and television anchor Raghav Bahl. "Older men are not confident enough about Indian designer wear and usually shop abroad," he remarks.
Before long, he diversified into womenís clothes. "Thereís always more money in womenís clothes than in menís," he explains. "But then, women who pay for their own clothes generally go in for western wear, while those spending their husbandís money, buy Indian clothes on the whole!"
Soni had already got his fingers on the market pulse. And since that point onwards, there has been no looking back for this style guru. MF