IN PASSING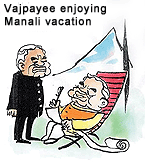 Sorry. I can't spare time for you Mr Prime Minister!
by Sandeep Joshi
IT part of HP school syllabi
Shimla, May 26
Himachal Pradesh today became the first state in the region to launch information technology as an elective optional subject at senior secondary schools.
Manipur MLAs oppose Koijam as CM
New Delhi, May 26
The ruling NDA is in a quandary as the newly floated People's Democratic Alliance legislators, owing allegiance mainly to the BJP, are strongly opposed to the imposition of President's rule and the re-installation of Mr Radhabinod Koijam as Chief Minister.


Warrants against Prabhakar
New Delhi, May 26
An Uttaranchal court has issued non-bailable warrants against tainted former cricketer Manoj Prabhakar for allegedly defrauding general public of crores of rupees, but he has not been arrested because of his absence from the Capital.
Chhota Shakeel gang recruits local youths
Engages criminals for 'supari' killings
Chandigarh, May 26
Is the Chhota Shakeel gang on a recruitment spree in Punjab and Haryana, besides establishing links with both militants? Yes, feel the security agencies. A couple of team of investigators from Punjab are already in the union Capital to interrogate suspected members of the gang who landed in the net of the Delhi police from outside a place of worship early this week.
PM sends letter to Musharraf
May 26, 2001
Birdhwal ammunition dump on fire
May 25, 2001
J&K ceasefire off, PM invites Musharraf for talks
May 24, 2001
Samata part of NDA: George
May 23, 2001
Samata leaves it to George
May 22, 2001
Samata reschedules executive meeting
May 21, 2001
Decision on J&K truce extension soon: Advani
May 20, 2001
Badal pleads for 'blacklisted' Sikhs
May 19, 2001
Cabinet expansion in early June
May 18, 2001
Kashmir issue bilateral
May 17, 2001