Providing the ATM facility is just a value-added service to make the customer happy. Several banks (mainly the foreign and private ones) provide the ATM facility in the metros and other large cities. Most of the ATM centres provide 24-hour service to their customers. With the availability of the latest technology, Internet banking and multi-branch banking facilities are also available.
So strong has been the influence of this convenience banking that more than 20 nationalised banks and a few private ones have pooled in their resources to launch a consortium of more than 200 ATMs in Mumbai. Dubbed "Swadhan scheme," this means a client from any of the listed banks can withdraw cash from any of the outlets, which could even be of a rival private bank.
ATM penetration per million persons in Asian countries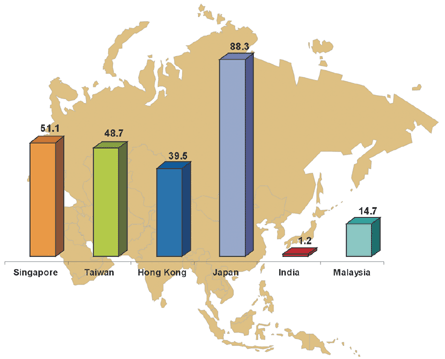 "This is all about providing a multitude of services to customers. We have introduced a doorstep account opening facility with just Rs 500. The customer can withdraw even this amount and maintain a zero balance without the hassle of paying charges for not maintaining minimum balance. We do not gain anything, but this is what we call e-banking," says a marketing manager from the Bank of Punjab, and adds their Global e-Bank Card allows online access to accounts worldwide.
ATM outlets have permeated into even rural India. The SBI plans to open 1,000 ATM counters by March 31, 2002, many in rural areas. "The bank has already tied up with HCL Comnet for networking details," a senior-level technical manager from the bank reveals, and adds that with just 1,200 nationalised bank ATMs, India could be a good potential market.
Banks and financial institutions are using the latest tools to woo the customer. HDFC Bank claims to be the first one to introduce mobile commerce in India. Similarly, ICICI Bank says that it was the first one to have introduced Net banking in India. In Internet banking, a customer transacts through the World Wide Web while he accesses the bank's server if he operates an ATM card.
"We introduced Net banking two years ago on an experimental basis. The response was slow initially, but now the number of customers has increased by 25 per cent. The typical consumer profile is literate, computer-savvy persons with Net access, in the age group of 20 to 50 years. Senior citizens have not taken to Net banking in as big a way in Chandigarh as metros," says Anand Kumar, a senior vice-president with the ICICI Bank.
While a few say the concept of Net banking is at a "primitive stage" in India, others like Navtej Singh from the HDFC say that the response is good. "Statistical figures should only consider those who have a Net connection if you actually want to see how many persons access the Net for banking purposes. This way you'll find the response to be encouraging," he says.
But are they safe? Reports indicate that frauds involving ATM cards average Rs 30,000 a day in India. Britain's Barclays Bank was recently forced to suspend its online banking service after Internet customers were given the account numbers of its 1.25-million other customers.
"Recently I was asked to assess an online bank and I found a poorly designed Web application, weak passwords, poor policies and procedures, and a vulnerable infrastructure, transmitting information in the clear, which is not encouraging if you do your banking online," says R. Nash, a bank evaluation expert.
Interestingly, every bank visited by this correspondent claimed to be 100 per cent foolproof and denied their bank ever having been at the receiving end. Most of the banks depend on firewalls and SSL protocols.
"With the advent of new technology almost every reputed bank provides a number of checks, like firewall, 128-bit encryption and SSL, to ensure that there is no hacking or cracking," Vikas Monga, a regional coordinator with a private bank, says.
Hi-tech banking is in a state of flux. Banks have to enter the huge untapped market cautiously, keeping in view the security aspects. But then is banking not all about details? Doing it through ATMs and the Net is just one more detail.