M A I N N E W S
VHP leader hurt in bomb blast
Ayodhya (UP), May 28
The Vishva Hindu Parishad (VHP) leader and Vice-President of the Ram Janambhoomi Trust, Mahant Nritya Gopal Das, and four others were injured in a bomb attack early today at Ahilya Ghat on the bank of Saryu, VHP sources said.
Mahant Gopal Das along with six disciples and his private securitymen was going for a bath in the river when a group of five persons surrounded them and hurled bombs at about 5.10 a.m., sources said.
The miscreants escaped after the attack.
The Mahant, hit by splinters in his legs and back, was admitted to the Faizabad district hospital and stated to be out of danger, they said.
The other persons injured in the attack, including one of his securitymen, were also admitted to the hospital. PTI

Cyclone heading towards Gujarat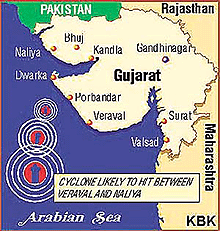 Gandhinagar, May 28
The severe cyclonic storm over east central Arabian Sea, heading towards Gujarat at a speed of 70 to 80 km per hour, was expected to strike coastal Veraval and Nalia late tonight even as over 17,000 persons have been shifted to safer places by the state authorities.
The cyclonic storm was located at 250 km south-west of Porbandar, Revenue Minister Vajubhai Vala told reporters here today.
Mr Vala said the cyclone was now centred at 20 degrees north latitude and 68 degrees east longitude.
Kutch, Jamnagar, Junagadh, Porbandar and Diu districts could be affected by the cyclonic storm and the meteorological centre here has already issued a warning to this effect, Mr Vala said.
There was a possibility of rainfall too in these districts and sea waves could rise as high as two metres, Mr Vala said.
He informed that as many as 17,472 persons, including 4,155 salt workers, had been shifted to safer places from Mandvi, Mundra, Anjar, Bhachau, Gandhidham, Abdasa and Lakhpat as a precautionary measure.
Meanwhile, Army and para-military forces have been kept as stand-by to meet any eventuality arising out of the cyclonic storm hitting the state coast.
Mr Vala said radio sets had been installed at Kandla and Koteshwar as an alternative to any communication breakdown.
Danger signal number seven had been hoisted between Dwarka and Veraval, signal number five between Jhakua and Okha, signal number three between Kodinar and Umargaon, Mr Vala said.
The Director of Meteorological centre here, Dr K. Kankane, said the intensity of the storm was reducing and therefore the damage could be comparatively lesser.
The cyclonic storm might increase in speed at a later stage, he said.
To a question whether the storm could drift towards Pakistan leaving Gujarat unscathed, Dr Kankane said even if that happened coastal areas of Kutch and Saurashtra could not remain unaffected.
Mr Kankane said parts of Veraval experienced a drizzle today. PTI