THE TRIBUNE MAGAZINES
On Mondays

On Sundays
On Saturdays
Govt protecting IAS officer
Take action, High Court tells Haryana
Chandigarh, May 30
Coming down heavily on the Haryana Government for "protecting" IAS officer Sunil Gulati, accused of misappropriating public funds while working as the Managing Director of Haryana Polysteel Limited, Mr Justice Jawahar Lal Gupta and Mr Justice N.K. Sud of the Punjab and Haryana High Court have directed the state to take action against the officers indicted in an inquiry ordered into the allegations levelled by the workers' union.
| | |
| --- | --- |
| | Sixteen-year-old Temba Tsheri Sherpa, the youngest person to climb the Mount Everest, is felicitated by his school headmaster Laxmanraj Banshi upon his arrival at Kathmandu airport on Wedesday. The Nepali schoolboy scaled the world's highest mountain on May 22, a year after a severe frostbite forced him to turn back from his first attempt at climbing the summit. — Reuters |
IN PASSING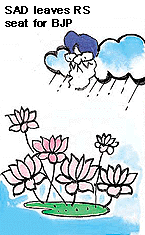 by Sandeep Joshi
Dhananjoy not to form govt
Imphal, May 30
Progressive Democratic Alliance leader and Manipur Assembly Speaker Sapam Dhananjoy Singh tonight withdrew his claim to form the government in the state.
Two students killed in roof collapse
Mansa, May 30
Two students lost their lives while five students and a teacher were injured when the roof of a school building at Budhlada in the district collapsed today.
25 killed as train, bus collide
Lucknow, May 30
At least 25 passengers were killed and several others injured when the vehicle carrying them collided with a train at the Ballia Buzurg unmanned crossing in Lakhimpur district today.


Tribune impact
Teachers quitting or closing shop
Haryana clampdown on private tuitions
Chandigarh, May 30
Succumbing to pressure built up by the Haryana Government against the menace of private tuitions two lecturers —one each at Hisar and Yamunanagar — have decided to quit their jobs while several others have refunded the fee to their students for the remaining part of their tuition sessions as a majority of the private coaching centres run by university and college lecturers in the state have either closed down or suspended their work.
Pak accepts PM's invitation
May 30, 2001

India says no to referendum
May 29, 2001
PDA, Chaoba Cong both decide to stake claim
May 28, 2001
GoM for more powers to Centre
May 27, 2001
PM sends letter to Musharraf
May 26, 2001
Birdhwal ammunition dump on fire
May 25, 2001
J&K ceasefire off, PM invites Musharraf for talks
May 24, 2001
Samata part of NDA: George
May 23, 2001
Samata leaves it to George
May 22, 2001
Samata reschedules executive meeting
May 21, 2001
Decision on J&K truce extension soon: Advani
May 20, 2001