THE TRIBUNE MAGAZINES
On Mondays

On Sundays
On Saturdays
Muslims oppose UT status to Ladakh
Kargil, May 31
Muslims in Kargil today opposed a demand of the Buddhists seeking an union territory status for the Ladakh region. Leaders of the two communities held talks with the Centre's chief negotiator K.C. Pant here.
Tehelka expose: evidence found against 3 officials
New Delhi, May 31
The Defence Ministry inquiry, headed by Chief Vigilance Officer R.P. Bagai, has found prima facie evidence of misconduct against the three suspended officials who figured in the Tehelka expose on defence deals, sources said today.
IN PASSING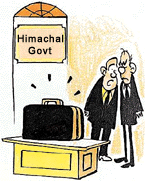 This is a gift from Vajpayeeji — a suitcase full of assurances!
by Sandeep Joshi
Gurcharan Kaur BJP nominee for RS seat
New Delhi, May 31
The BJP today approved names of Punjab unit Vice President Bibi Gurcharan Kaur and Uttar Pradesh party President Kalraj Mishra for the forthcoming Rajya Sabha elections.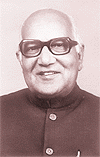 Jagannath Kaushal dead
Chandigarh, May 31
Former Law Minister and veteran Congress leader Jagannath Kaushal died here early this morning following a prolonged illness. He was 86.
R.S. Chaudhry may be INLD choice
Karnal, May 31
Mr R.S. Chaudhry, Vice-Chancellor of Kurukshetra University, is likely to be the choice of the Indian National Lok Dal for nomination to the Rajya Sabha. The nomination papers for the seat, which fell vacant following the death of Devi Lal, are to be filled by June 1.
No Union berth for Sukhbir: CM
Patiala, May 31
Punjab Chief Minister Parkash Singh Badal today categorically said that his son Sukhbir Singh Badal would not be inducted into the Union Ministry in the expansion expected before the monsoon session of Parliament.
Nine ultras shot in Poonch encounter
May 31, 2001

Pak accepts PM's invitation
May 30, 2001

India says no to referendum
May 29, 2001
PDA, Chaoba Cong both decide to stake claim
May 28, 2001
GoM for more powers to Centre
May 27, 2001
PM sends letter to Musharraf
May 26, 2001
Birdhwal ammunition dump on fire
May 25, 2001
J&K ceasefire off, PM invites Musharraf for talks
May 24, 2001
Samata part of NDA: George
May 23, 2001
Samata leaves it to George
May 22, 2001