Tradition Arts, her latest project, was inaugurated in December by Hrithik and is already attracting the most celebrated architects, interior and home designers as well as elite families who are looking to making their homes beautiful and personalised in decor. In the shop are light fittings, accessories and artefacts from Italy, Spain, Morocco, South Africa, Germany, Malaysia and so many other countries. "Now that the import of all these beautiful objects is free and easy, I have chosen to open a shop," says Zarine, for whom this is a dream come true. "Each year, I travel to the most exotic countries and select artefacts for the shop. I have now sourced the most important manufacturers of these artefacts and each year, three or four huge containers bring them to India... My shop offers the best from each of the countries I visit. The display is artistic and perfect in ambience. No object is shown in isolation..." she says with pride.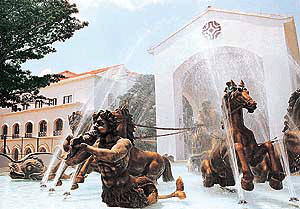 The Greco-Roman fountains designed by Zarine for her Bangalore resort
"Before I opened this shop, I was one of the busiest interior designers in Mumbai. I designed homes, offices, restaurants, hotels and resorts. I manufactured furniture, statues and fountains, lighting fixtures and curtains with a battery of workers. I created beautiful homes for many celebrities in India."
"My interest in the business of interior design was born out of strange circumstances. When I was a teenager, I met Abbas (Sanjay) Khan and we went around for six years before we could marry. He and his family — four brothers, a sister and mother — lived in a cottage in the same Juhu plot where we have our bungalow now. Sanjay was hunting for opportunities in the film industry and I was modelling, mainly in Femina. At about that time, Sanjay was chosen to act in Rajshri's Dosti, which, with superb music, went on to become an all-time hit. Then Sanjay did Haquequat which also was another super hit. We got married soon and never looked back after that."
"But marriage and the coming of children one by one changed my lifestyle completely. Earlier, when both Sanjay and I were free, we hung around together. After his two hit films, he became extremely busy and was away shooting the whole day. I was at home and the children were young. I needed my own activity and an identity of my own. When we built our small home, I had loved doing it up. So I realised that interior design was my favourite profession and suited my temperament. I teamed up with my friend, Neetu Kohli, as my partner and together, we designed many homes. Our clients included Hema Malini, the Ambanis and so many leading celebrities. I was very busy as an interior designer for almost 20 years."
"Then came our Bangalore resort project. Sanjay started the construction of a huge resort called Golden Palms on the outskirts of Bangalore, a very rapidly developing IT city. A property set on more than 18 acres of green woodland, the project was to be a seven-star, international class resort hotel with all kinds of luxuries woven into its services. I've had some of India's best architects working on the project. But having 20 years of experience in interior design, I was also deeply involved in the design and execution of the resort. I chose the design details and worked on the furniture, tapestries, carpets, conveniences and the landscaping. The Greco Roman fountains, vases, latticed doors and windows, the spaces for fitness and beauty, the facade, the approach road, the rooms and the restaurants had to be done in detail and it took me nearly three years to complete this stupendous job. Because the job was in Bangalore, I had to travel frequently between Mumbai and Bangalore and I truly felt exhausted at the end of the assignment."
"While all this work was going on, Kaho Na Pyar Hai was released and overnight my youngest daughter, Suzanne, who had been going around with Hrithik for five years, suddenly became the most famous 'girlfriend' in India.... As is known, they were married in Bangalore at the Golden Palms resort in December, 2000. The hotel-resort was not even fully open then. We had to hurry up and prepare the rooms for the baraatis and the banquet hall for the celebration. I had to complete the landscaping with the help of our consultant Jimmy Amroliwala."
"Today, five months after the wedding — which became almost a national event — the resort is ready for opening.... Services and staff are in place and by June, 2001, we hope to fully open the resort, which will be run by the Hilton group... But after this massive assignment, I have decided to give up interior design as a profession," Zarine declares.
"As a family, we have been very lucky. All of us live close to each other. Feroz's children, Laila and Fardeen, are close to my children and we often get together for family meals and holidays. My daughters are just a short distance away and are close to me. This year, two of my daughters, Suzanne and Simone, with their families, met me in London and we had a quiet time together."
Zarine is the charming matriarch of the Khan family today. Still the bubbly, cheerful woman she was, she dresses elegantly, entertains lavishly and spends her time usefully. "We have a group of friends," she laughs, "who get together very often to laugh, communicate, to share ideas and to eat and have fun. The group includes Pinky Roshan, Honey Irani and other women. I believe that love and cheerfulness are a religion in themselves and I really cherish these values!"