THE TRIBUNE MAGAZINES
On Mondays

On Sundays
On Saturdays
Jaya issue for 3-Judge Bench
Notices to Centre, Attorney-General
New Delhi, June 4
The Supreme Court today issued notices to Tamil Nadu Chief Minister and AIADMK supremo J. Jayalalitha, the Union Government and the Attorney-General of India on a bunch of petitions raising the question whether a person disqualified from contesting elections could be appointed as chief minister.
IN PASSING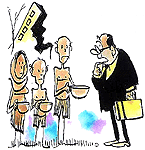 What else do you want now? You have been given a tax holiday!

by Sandeep Joshi
World page: Sophisticated Russian weapons for India


Russian Foreign Minister lgor lvanov gestures as he meets Indian External Affairs and Defence Minister Jaswant Singh (left) in Moscow on Monday.
ó Reuters photo
Four dead in blast at bus stand
Eleven intruders shot dead in encounters
Srinagar, June 4
At least seven persons, including a BSF officer and four civilians, were killed and 18 injured in separate incidents of violence in the Kashmir valley since yesterday. In other militancy-related incidents across the state, a junior engineer were among 13 persons killed.
NEWS ANALYSIS
PMís invitation stuns APHC, jehadi groups
The Vajpayee governmentís invitation to Pakistanís military ruler, Gen Pervez Musharraf, for talks in New Delhi and the simultaneous decision to call off the unilateral ceasefire against the militants has taken the wind out of the sails of Pakistan-based jehadi groups.
Kutch gets five-year tax holiday
June 4, 2001
Nepal Prince massacres Royal family
June 3, 2001

7 Afghan guerrillas shot in Rajouri
June 2, 2001

Indo-Pak summit around July 15
June 1, 2001

Nine ultras shot in Poonch encounter
May 31, 2001

Pak accepts PMís invitation
May 30, 2001

India says no to referendum
May 29, 2001
PDA, Chaoba Cong both decide to stake claim
May 28, 2001
GoM for more powers to Centre
May 27, 2001
PM sends letter to Musharraf
May 26, 2001