THE TRIBUNE MAGAZINES
On Mondays

On Sundays
On Saturdays
TRIBUNE FOLLOW-UP
4 marriage palaces demolished
Owners flay 'pick-and-choose policy'
Ludhiana, June 5
Four marriage palaces situated near the Baddowal ammunition depot were razed to the ground in a joint operation by a team of the district administration and the local police in the early hours here today amidst allegations of selective demolition action levelled against the authorities.
IN PASSING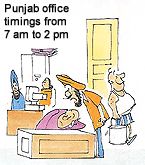 One more employee wants short leave for bathing!
by Sandeep Joshi
UK allows Canada to prosecute Reyat
Vancouver, June 5


British Home Secretary Jack Straw has given permission to Canada to prosecute Inderjit Singh Reyat, a suspect in the 1985 bombing of Air India Flight 182, which killed 329 passengers, a Canadian official said.
Tension in Lucknow
Lucknow, June 5
At least 30 persons were injured, some of them seriously, in heavy brickbatting by agitated mobs, who also set afire many vehicles, at several places in the old city after a youth was killed by some policemen near Teela-Wali-Masjid in the Chowk Kotwali area in wee hours today.



Ultras kidnapped for money alone
Dakoha (Gurdaspur), June 5
Kidnapping for extortion had become a business in the late eighties. While 80 per cent persons were kidnapped for extortion, 20 per cent victims were kith kin and of senior IAS and IPS officers or politicians who were kidnapped to get fellow-militants released from jail.
Four killed as riots break out in Nepal
June 5, 2001

Kutch gets five-year tax holiday
June 4, 2001

Nepal Prince massacres Royal family
June 3, 2001

7 Afghan guerrillas shot in Rajouri
June 2, 2001

Indo-Pak summit around July 15
June 1, 2001

Nine ultras shot in Poonch encounter
May 31, 2001

Pak accepts PM's invitation
May 30, 2001

India says no to referendum
May 29, 2001
PDA, Chaoba Cong both decide to stake claim
May 28, 2001
GoM for more powers to Centre
May 27, 2001