THE TRIBUNE MAGAZINES
On Mondays

On Sundays
On Saturdays
Musharraf may skip Hurriyat
New Delhi, June 6
Pakistani High Commissioner Ashraf Jehangir Qazi today hinted that the Hurriyat Conference is unlikely to have an audience with General Pervez Musharraf during his summit meeting with Prime Minister Atal Behari Vajpayee.
IN PASSING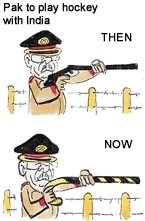 by Sandeep Joshi
India, Russia sign defence accord
Moscow, June 6
India and Russia today signed a "ground breaking" accord on bilateral defence cooperation with Moscow offering New Delhi a blueprint of an advanced integrated air defence system and joint production of fifth generation fighter aircraft.
'Ardas' for Bhindranwale at Takht
Ghallughara Divas passes off peacefully
Amritsar, June 6
Despite strong opposition by some officials of the SGPC, the radical Sikhs succeeded in holding 'Antim Ardas' for Sant Jarnail Singh Bhindranwale who was killed reportedly in Operation Bluestar in 1984.
Vedanti ready to mediate
Amritsar, June 6
Jathedar Akal Takht Giani Joginder Singh Vedanti today stressed the need for complete Panthic unity and uniformity of "Sikh rehat maryada".


Chautala turns down PM's offer
Gurgaon, June 6
The Haryana Chief Minister and INLD chief, Mr Om Prakash Chautala has turned down the offer of the Prime Minister, Mr Atal Behari Vajpayee, to recommend two names from his party for induction into the Union Council of Ministers.
Oppn leader quits probe panel
June 6, 2001
Four killed as riots break out in Nepal
June 5, 2001

Kutch gets five-year tax holiday
June 4, 2001

Nepal Prince massacres Royal family
June 3, 2001

7 Afghan guerrillas shot in Rajouri
June 2, 2001

Indo-Pak summit around July 15
June 1, 2001

Nine ultras shot in Poonch encounter
May 31, 2001

Pak accepts PM's invitation
May 30, 2001

India says no to referendum
May 29, 2001
PDA, Chaoba Cong both decide to stake claim
May 28, 2001