THE TRIBUNE MAGAZINES
On Mondays

On Sundays
On Saturdays
Reyat questions jurisdiction of Canada's court
Washington, June 7
Inderjit Singh Reyat, the third accused in the Air-India bombing case, today caused a flutter in the British Columbia Supreme Court at Vancouver by declining to walk into the court premises voluntarily to be charged with the murder of 329 persons, but gave in once the court provided an assurance that his appearance would not prejudice his right to question its jurisdiction.
IN PASSING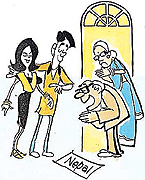 All is OK by us, son. Please go ahead!

by Sandeep Joshi
Row over auction: EO beaten up
Fazilka, June 7
Mr Jagdish Raj Wadhwa, Executive Officer, Municipal Council, Fazilka, was allegedly beaten up by Mr Mohinder Partap Dhingra, President, Municipal Council, and his supporters today following a row over the auction of a plot in the civic body office here.
6 killed, 6 hurt in road mishap
Nahan, June 7
Six persons were killed and six others injured when a utility vehicle rolled into a gorge near Nohra Dhar, about 100 km from here, this evening.
Temperatures dip as rain gods smile
Chandigarh, June 7
Strong winds accompanied by rain at many places in Punjab, Chandigarh and adjoining areas in Haryana caused drastic fall in temperatures upto 14°C at some places in the north-west region today.



Punjab jails or killer cells?
Chandigarh, June 7
Are Punjab jails turning into killer cells for prisoners and undertrials? This question needs an answer going by the fact that more than 170 inmates have died since 1997. While most of these deaths have been "unnatural", reports of torture, including branding and negligence by the jail authorities are not uncommon.
Gyanendra spells out probe terms
June 7, 2001
Oppn leader quits probe panel
June 6, 2001
Four killed as riots break out in Nepal
June 5, 2001

Kutch gets five-year tax holiday
June 4, 2001

Nepal Prince massacres Royal family
June 3, 2001

7 Afghan guerrillas shot in Rajouri
June 2, 2001

Indo-Pak summit around July 15
June 1, 2001

Nine ultras shot in Poonch encounter
May 31, 2001

Pak accepts PM's invitation
May 30, 2001

India says no to referendum
May 29, 2001
PDA, Chaoba Cong both decide to stake claim
May 28, 2001