THE TRIBUNE MAGAZINES
On Mondays

On Sundays
On Saturdays
Jathedar Jagdev Singh Talwandi, SGPC President, addresses the SGPC Executive meeting in Amritsar on Friday.
— Photo Rajiv Sharma
In Windows today
IN PASSING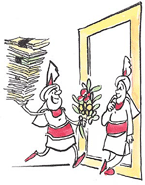 There are bouquets for the speedy recovery of the PM and these files contain requests for Cabinet berths!

by Sandeep Joshi
Man stabs 8 kids to death
Ikeda (Japan), June 8
Eight children were killed and 15 persons injured in Japan's worst school tragedy today when a middle-aged man with a history of mental illness went on a stabbing rampage at an elementary school in western Japan.
Don't provoke Ajit, PM tells Chautala
Chandigarh, June 8
The Prime Minister, Mr Atal Behari Vajpayee, is believed to have advised his alliance partner, the INLD supremo and Haryana Chief Minister, Mr Om Prakash Chautala, as well as the would-be partner, Mr Ajit Singh of the Rashtriya Lok Dal, to exercise restraint and refrain from undertaking any such activity as may provoke the other.
MiG crashes near Nurpur, pilot unhurt
Panel gets sweeping powers
June 8, 2001
Gyanendra spells out probe terms
June 7, 2001
Oppn leader quits probe panel
June 6, 2001
Four killed as riots break out in Nepal
June 5, 2001

Kutch gets five-year tax holiday
June 4, 2001

Nepal Prince massacres Royal family
June 3, 2001

7 Afghan guerrillas shot in Rajouri
June 2, 2001

Indo-Pak summit around July 15
June 1, 2001

Nine ultras shot in Poonch encounter
May 31, 2001

Pak accepts PM's invitation
May 30, 2001