THE TRIBUNE MAGAZINES
On Mondays

On Sundays
On Saturdays
Bandh in Charar-e-Sharief
Minister faces angry crowds
Srinagar, June 9
A complete shutdown was observed as tension prevailed in the holy township of Charar-e-Sharief today following a grenade explosion yesterday in which five persons, four according to the police, were killed and 50 injured.
10 militants killed in Kashmir
Srinagar, June 9
Ten militants, including foreigners, were among 11 killed in the valley during the past 24 hours. Security personnel defused on improvised explosive device planted by militants at Nathipora on the Sopore-Kupwara road this morning.
In Spectrum today
IN PASSING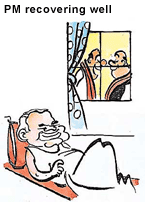 The name of ward boy attending Atalji should also be included in the list of Padam Shris!
by Sandeep Joshi
Khatami wins another term


Teheran, June 9
President Mohammad Khatami crushed his opponents in Iran's presidential elections, winning an unexpectedly decisive mandate to forge ahead with his controversial democratic reforms.
CM ready for Panthic unity
Dhariwal (Gurdaspur), June 9
Assuring permanent peace at all costs, Mr Parkash Singh Badal, Chief Minister, said the 'fiery slogans' raised by certain parties and factions could hamper the developmental process initiated by his government. Addressing the first district-level pre-election rally in the hub of Majha region here today, Mr Badal claimed that the SAD-BJP alliance would sweep all Assembly seats during the forthcoming elections.



Rebel grew up in Chandigarh
Chandigarh, June 9
Dr Babu Ram Bhattarai, the underground Maoist leader of Nepal and whose opinion piece about the June 1 killings of King Birendra and his entire family led to the arrest of the Kantipur daily Editor Yubraj Ghimire, Managing Director Kailash Sirohiya and Director Binod Raj Gyawali, on the charges of sedition, has strong Chandigarh connections.
5 devotees dead, 60 injured
June 9, 2001
Panel gets sweeping powers
June 8, 2001
Gyanendra spells out probe terms
June 7, 2001
Oppn leader quits probe panel
June 6, 2001
Four killed as riots break out in Nepal
June 5, 2001

Kutch gets five-year tax holiday
June 4, 2001

Nepal Prince massacres Royal family
June 3, 2001

7 Afghan guerrillas shot in Rajouri
June 2, 2001

Indo-Pak summit around July 15
June 1, 2001

Nine ultras shot in Poonch encounter
May 31, 2001