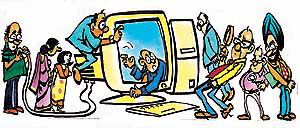 If you look at computer security, you will see that most of it is common sense-related. A password-protected screen saver is one of the easiest ways to make it difficult for anyone to access your computer when you are not working on it, says Roopinder Singh.
YOU wouldn't really leave a load of sensitive documents lying around for others to see, would you? But what about leaving your computer unsecured? Most of us do not give any thought to the security of the ubiquitous computer that adorns practically every modern desktop.


Attitude towards the aged is changing
by J.S. Bedi
SINCE Independence, the growth of a large number of old-age homes in the northern region is not a welcome sign as it indicates the gradual weakening of the social fabric of our society which has had a rich tradition of caring for all those in the twilight zone.
Pungent bulb with a heart of gold
by Maharaaj K. Koul
THERE are people who cannot eat without it, while some detest the very name. And its pungent odour probably ended many a budding romance too. In the middle of the 18th century Siberian villagers in Russia paid their taxes with it. The Romans gave it to their labourers to impart srength and to their soldiers to incite courage. According to legend, if hung on the doors and windows, it keeps vampires away. And if hung around the neck, it was said to ward off the evil eye. It is garlic.