Mohammad Yunus dead
New Delhi, June 17
Mr Mohammad Yunus, veteran freedom fighter, a distinguished diplomat and a close friend of the Nehru family, today passed away at the AIIMS here after protracted illness.
President K. R. Narayanan pays his last respects to veteran Congress leader Mohammad Yunus who died in New Delhi on Sunday. — PTI photo

Pant holds review meeting
New Delhi, June 17
The Centre's interlocutor on Jammu and Kashmir, Mr K. C Pant, today held a review meeting of senior government officials to take stock of the progress made on various issues raised by various groups during his visit to the state.
In Agriculture today
In Log in... Tribune today
THE TRIBUNE MAGAZINES
On Mondays

On Sundays
On Saturdays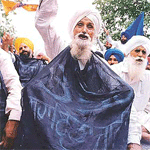 Farmers scuffle with cops
Sit in dharna at CM's 'sangat darshan'
Tarn Taran, June 17
"Sangat darshan" organised here today by Mr Parkash Singh Badal, Chief Minister Punjab ran into rough weather when hundreds of farmers came to the venue to protest against non-meeting of long pending demands.

A farmer protests against Punjab Government's agriculture policies at Tarn Taran on Sunday.
— PTI photo
10 drowned in flash-flood
Jammu, June 17
At least 10 persons, including four women and three children, were drowned when a vehicle, in which they were travelling, was washed away in flash-flood in Malhaar nullah near Reasi late last night.


Lashkar ordered 'spectacular' strikes
Jammu, June 17
Agencies in Pakistan, opposed to the proposed Vajpayee-Musharraf talks in Delhi, have sent messages to the divisional and district commanders of the Lashkar-e-Toiba and the Jash-e-Mohammad to carry out "spectacular" strikes against the security forces and soft targets to foment violence.
J&K integral part of India: govt
June 17, 2001
APHC men under house arrest
June 16, 2001
Dipendra was killer, says probe report
June 15, 2001
APHC: political activity not suspended
June 14, 2001
Mosque siege ends, all ultras shot
June 13, 2001
Giani Kewal Singh may quit
June 12, 2001
Hurriyat suspends 'people's movement'
June 11, 2001
Advani sees shift in Pak stand
June 10, 2001
5 devotees dead, 60 injured
June 9, 2001
Panel gets sweeping powers
June 8, 2001