THE TRIBUNE MAGAZINES
On Mondays

On Sundays
On Saturdays
It's unfortunate: Commonwealth
London, June 20
Britain and the Commonwealth today termed as "unfortunate" and a "setback" to democracy Pakistan's military ruler Gen Pervez Musharraf's decision to appoint himself President and dissolve the national and provincial Assemblies.
Bodies of 13 victims cremated
Manipur MLAs not to resign yet
Imphal, June 20
The bodies of 13 victims killed in Monday's police firing were given a mass cremation today as Army choppers whirred overhead and the security forces stepped up patrols in the valley, where three districts are under indefinite curfew.
In Science Tribune today
IN PASSING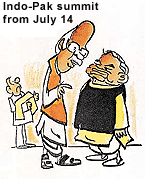 We should not present General Musharraf a Kashmiri shawl. Think of something else!

by Sandeep Joshi
Holed-up militant shot dead
Baramula, June 20
The security forces today killed a militant who had taken refuge in a mosque at Kachihama in Kupwara district. This was the third such incident in a month when militants had used mosques to attack the security forces.
Head Granthi resigns
Talwandi Sabo, June 20
A development which may have far-reaching effects in the Sikh religio-political scene, the head Granthi of Takht Damdama Sahib Man Singh today resigned his post to protest against his transfer to a Gandha Singh Gurdwara at Barnala.



'Bir' not historic: Vedanti
Sikh scholars to probe matter
Amritsar, June 20
Even as the Dharm Parchar Committee of the SGPC, through a resolution, has decided to make arrangements to bring back the handwritten "bir" from Canada, Giani Joginder Singh Vedanti, Jathedar, Akal Takht, has said the "bir" was not a historic one. The resolution of the Dharm Parchar Committee, received by Akal Takht Secretariat reads, "The meeting resolved to get the matter probed by a panel of Sikh scholars".
Indo-Pak summit from July 14
June 20, 2001
13 protesters die as Imphal burns
June 19, 2001
Hasina sees Oppn hand in blast
June 18, 2001
J&K integral part of India: govt
June 17, 2001
APHC men under house arrest
June 16, 2001
Dipendra was killer, says probe report
June 15, 2001
APHC: political activity not suspended
June 14, 2001
Mosque siege ends, all ultras shot
June 13, 2001
Giani Kewal Singh may quit
June 12, 2001
Hurriyat suspends 'people's movement'
June 11, 2001