THE TRIBUNE MAGAZINES
On Mondays

On Sundays
On Saturdays
GCM convicts Kargil Major of malingering
Chandigarh, June 26
A General Court Martial has found Major V. K. Madhan of 2 Rajputana Rifles, guilty of two of the four charges levelled against him for dereliction of duty during the Kargil operations in 1999.
For minister's sake passengers left in lurch
Chandigarh, June 26
Passengers of the 241 Up Shivalik Deluxe between Kalka and Shimla were left fuming yesterday as the train had unscheduled halts at Barog and Solan spanning more than two hours as no technicians were available for rectifying minor snags in the engine of their train.



After several years of dry spell, village women plant paddy saplings in South Kashmir, hoping for better crop this season. Farmers in a number of villages in North Kashmir have sown maize crop in the paddy fields in view of scant rains.
— PTI

In Health Tribune Today
IN PASSING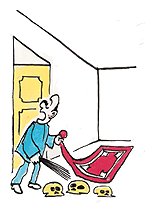 We are preparing ground for the Indo-Pak summit!

by Sandeep Joshi
Chohan arriving
Chandigarh, June 26
A top Khalistan ideologue, Dr Jagjit Singh Chohan , is on his way to Delhi, according to informed sources. Sources said that he boarded a British Airways flight from London late this evening and was expected to reach Delhi in the small hours of Wednesday.
Warring villagers strip women
Fazilka, June 26
Members of two warring factions in border village of Neolan in this subdivision allegedly paraded naked the womenfolk of opposite groups due to a row over a reported love-affair between a boy and a girl of the two groups of the same village.
Jammu blast: militant wore Army gear
Jammu, June 26
Preliminary investigations have revealed that the militant who engineered the bomb blast at the Jammu railway station last night came in Army uniform on the scooter in which the explosive, fitted with a remote control device, was kept.


MIGRANT CAMPS-II
Tribune Special
Migrant youth face bleak future
Jammu, June 26
When the Kashmiri pandits bid a tearful adieu to their homeland in 1989, they knew little what the fate of their wards was destined to be. Forced to abandon their homes, the displaced pandits could only hope for a miracle to guard and secure the future of their children. The miracle never happened.

Radicals to be detained
June 26, 2001
Massive shake-up in IT Dept
June 25, 2001
Amritsar bandh evokes mixed response
June 24, 2001
Musharraf to hold office for 5 years
June 23, 2001
President greets Musharraf
June 22, 2001
Musharraf appoints himself President
June 21, 2001
Indo-Pak summit from July 14
June 20, 2001
13 protesters die as Imphal burns
June 19, 2001
Hasina sees Oppn hand in blast
June 18, 2001
J&K integral part of India: govt
June 17, 2001