THE TRIBUNE MAGAZINES
On Mondays

On Sundays
On Saturdays
No agreement likely on Siachen: Pak
Islamabad, June 27
Pakistan today dismissed as "total conjecture" a report in a local daily stating the forthcoming Indo-Pak summit could result in an agreement between both sides on pulling out their forces from the Siachen Glacier.


MIGRANT CAMPS-III
A Tribune Special
Living in pigeonholes
Jammu, June 27
It is no less than a pigeonhole existence for the 3.5 lakh Kashmiri Pandits who are currently residing in the four migrant camps spread all over Jammu district. The list of odds being encountered by each family housed in displacement camps is endless, to say the least. Where on the one hand they are devoid of all basic medical facilities, on the other they have not experienced any element of decent living over the past 11 years of forced displacement from the homeland.


A view of the tenements at Nagrota displacement camp in Jammu.
In Science Tribune today
IN PASSING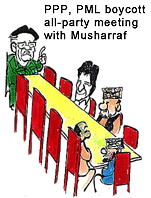 I am pleased to see the response of all-party meeting called by me!
by Sandeep Joshi
NC leader shot in Poonch
14 ultras among 27 killed
Srinagar, June 27
A ruling National Conference leader was among 27 persons killed in militancy-related violence in Jammu and Kashmir during the past 24 hours. The dead included 14 militants and 10 security personnel, official sources said.
20 die as bus falls into gorge
Srinagar, June 27
Twenty passengers were killed and 72 others injured, 10 of them seriously, when the bus in which they were travelling fell into a gorge near Khardungla today. Three of the injured are reported to be foreign tourists.
Gangsters kill 6 in Bihar village
Motihari, June 27
At least six persons were shot dead by gangsters at Manpur village under Govindganj police station area in East Champaran district of Bihar today.


Selling dolls on Paris streets
Indian boys victims of human trafficking
Paris, June 27
There is a seamy side to Paris — a city of dreams and reality. That side comes into sharp focus only when one visits key places of interest, though such places number 300-odd. What makes the seamy side more pronounced is the presence of young boys of Indian, Pakistan and Bangladesh origin who dot the museums and churches or hang around gardens or stand at street corners in shopping plazas.
Pak army drawing up agenda
June 27, 2001
Radicals to be detained
June 26, 2001
Massive shake-up in IT Dept
June 25, 2001
Amritsar bandh evokes mixed response
June 24, 2001
Musharraf to hold office for 5 years
June 23, 2001
President greets Musharraf
June 22, 2001

Musharraf appoints himself President
June 21, 2001
Indo-Pak summit from July 14
June 20, 2001
13 protesters die as Imphal burns
June 19, 2001
Hasina sees Oppn hand in blast
June 18, 2001