THE TRIBUNE MAGAZINES
On Mondays

On Sundays
On Saturdays
PM, Musharraf urged to sort out differences
United Nations, June 28
In the run up to the Indo-Pak summit, the UN Secretary-General, Mr Kofi Annan, has written to the Prime Minister, Mr Atal Behari Vajpayee, and the Pakistani President, Mr Pervez Musharraf, urging them to make a "genuine search" for solutions to all the problems between New Delhi and Islamabad.
MoD gives in to pressure
MES merger with estate service shelved
New Delhi, June 28
The Ministry of Defence has decided to shelve the proposal for merging the Indian Defence Estates Service with the Military Engineering Service following protests from political circles.
50 kg RDX seized, 15 die in J&K
Srinagar, June 28
The Jammu and Kashmir police today seized 50 kg of RDX from a militant hideout and averted a possible tragedy with the timely detection of an IED in the state, where 15 persons, including 11 militants were killed and three others injured, an official spokesman said.
In Arts Tribune today
IN PASSING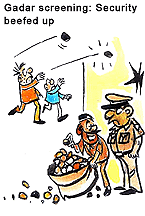 Sir, these stones can be used to construct a monument of love!
by Sandeep Joshi
MIGRANT CAMPS-IV
A Tribune Special
Down but bubbling to come out
Jammu, June 28
They are a group of 20 youngsters, all committed to court misfortune with a vengeance. Eleven years of forced exile from the homeland have not yet served to rob these youth of their grit and courage to face desperation with a smiling face.


| | |
| --- | --- |
| | "SMILING IN ODDS": The youth at Nagrota migrant camp in Jammu sporting hand-made dumbbells outside the tenement which they are now labouring to convert into a gymnasium. — Photo by writer |
India, France to make subs jointly
New Delhi, June 28
India and France today decided to go in for joint production of Scorpene submarines here which will give the Indian Navy advanced ship detection and missile launching capabilities, much superior to the Agosta class submarines acquired by Pakistan two years ago.

Govt, Army lock horns over grazing zones
Jammu, June 28
The state government and the Army authorities have locked horns over the 700 Gujjars and Bakerwals who have carried nearly 50,000 heads of sheep and goat besides scores of horses for grazing in the grazing zones in the strategic Zanskar area of Kargil.
Punjab caught on sticky wicket
June 28, 2001
Pak army drawing up agenda
June 27, 2001
Radicals to be detained
June 26, 2001
Massive shake-up in IT Dept
June 25, 2001
Amritsar bandh evokes mixed response
June 24, 2001
Musharraf to hold office for 5 years
June 23, 2001
President greets Musharraf
June 22, 2001

Musharraf appoints himself President
June 21, 2001
Indo-Pak summit from July 14
June 20, 2001
13 protesters die as Imphal burns
June 19, 2001