THE TRIBUNE MAGAZINES
On Mondays

On Sundays
On Saturdays
Badal changes stance
Chandigarh, June 29
The arrival of Dr Jagjit Singh Chohan, a top Khalistan Ideologue and Wassan Singh Zaffarwal, a top militant in Punjab, has started proving a nightmare to the Shiromani Akali Dal headed by the Chief Minister, Mr Parkash Singh Badal. (More Chohan-related stories)
Train brings 12 youths to Attari
Pak allows visa by road to visit shrines
Attari, June 29
The 12 Punjabi youths who had faced inhuman treatment at the hands of the Turkish and Iranian police and underwent nightmarish experience in jails of various countries today reached Attari railway station through a special train from Pakistan with the Sikh pilgrims. However, they are being interrogated at the station itself by intelligence agencies.
In Sports Tribune today
In Windows today
IN PASSING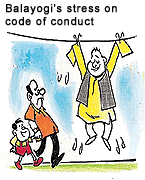 Papa, instead of a code they should make a detergent powder for the MPs...!
by Sandeep Joshi
Nine new trains from July 1
New Delhi, June 29
Northern Railway (NR) has announced nine new trains, including three Superfast trains, linking the Capital with Hatia, Bilaspur and Gorakhpur from July 1.
2 PILs against Jaya disposed of


BORDER MIGRANTS — I
A Tribune special
Pallanwala — stalked only by ghosts
Pallanwala (along the LAC),
June 29
The war at Kargil is over but its sad memory still breathes in every corner of the Pallanwala sector, along the Line of Actual Control, which lies abandoned for over two years now.

Houses and shops with mortar shell marks in Pallanwala sector.

Chohan's remarks unwarranted
June 29, 2001
Punjab caught on sticky wicket
June 28, 2001
Pak army drawing up agenda
June 27, 2001
Radicals to be detained
June 26, 2001
Massive shake-up in IT Dept
June 25, 2001
Amritsar bandh evokes mixed response
June 24, 2001
Musharraf to hold office for 5 years
June 23, 2001
President greets Musharraf
June 22, 2001

Musharraf appoints himself President
June 21, 2001
Indo-Pak summit from July 14
June 20, 2001