Nirmand
Kashi of the Himalayas
Manoj Jreat
OVERLOOKING the Sutlej valley in the lesser-known Seraj region of Kulu district, and about 150 km from Shimla and 17 km from Rampur, is the large Nirmand village. This village has been in existence since the early Vedic period, making it one of the oldest rural settlements in India. A number of ancient stone and wooden temples dating back to the 6th and the 7th centuries A.D. speak of Nirmandís religious and historical importance. For this reason it is often called the "Kashi of the Himalayas."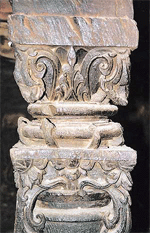 An intricately carved wooden pillar in Mahadev Temple

One of the ancient shrines in the village is dedicated to Goddess Ambika, the mother of Parshuram. Although the original structure has been altered, several old stone sculptures have been preserved in the temple complex. A unique feature of the temple is its roof, which is made of pure copper sheets. Another temple nearby, called Deccani Mahadev Temple, is dedicated to Lord Shiva. Its lingam is believed to have been brought from Deccan, and hence the name. The temple is renowned for its intricately carved wooden doors and pillars that are probably the finest examples of woodcarving in the state. Nirmandís principal shrine, however, is the Parshuram temple complex, which is built in the traditional Pahari style with gabled slate roof and extensive use of wood and stone. The exterior wooden balconies and pillars are elaborately carved in folk style, depicting scenes from the Hindu mythology. The temple complex resembles a hill fortress, which encloses a small courtyard with the only entrance from the western side. The northern section of the temple is a double-storeyed structure, which houses the legendary bhandar (storehouse) that is believed to contain priceless artefacts of which little is known.