Dave Matthews Band - (BMG Crescendo)
****
South Africa-born Dave Matthews' acoustic rock instincts with strong jazz-cum-freak-out leanings helped his music stand out from other jazz-rock bands. His first major-label album Under The Table And Dreaming sold three million copies in the USA alone. The band has released its fourth studio album titled Everyday. The album definitely marks a major change in their sound that now is more electric oriented. Now with a new producer Glen Ballard (Alanis Morisette, Aerosmith), the band has 12 songs in a searing rock album. It is an infectious album that offers plenty of ear candy for longtime fans.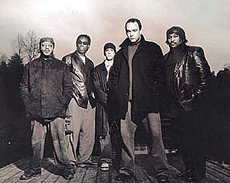 The album with the psychedelic track I Did It, offers some of the best lyrics Matthews ever wrote. Unlike the live versions of Dave Matthews Band, the songs of Everyday are short and sweet. The songs focus on Matthews' guitar and vocals, which sound more than ever like Eddie Vedder. Surprisingly, violinist Boyed Tinsley and saxophonist Leroi Moore don't figure in most songs. They only get a chance to play on the jazz/blues-based Angel and Sleep To Dream Her, a Dylanesque lilt that highlights impassioned violin work. And calling in a favour from Carlos Santana (on whose Supernatural Dave Matthews appears), the guitar legend offers his trademark style to Mother Father, a catalogue of Matthews' social, political and environmental queries. On So Right, a song that seamlessly blends the Dave Matthews of today with that of yesterday, he sings, "Tomorrow we may die, but tonight we're dancing in the faint light." Textural creativity at its best.
O-Town - O-Town (BMG Crescendo)
**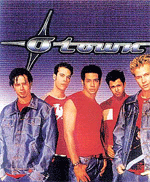 The members of this Orlando-based pop outfit were the five chosen from the eight semi-finalists selected from hundreds who auditioned for ABC TV's Making The Band. At the end of the series, the group was seen signing a recording contract with Clive Davis' new venture J Records. Taking a step past saccharine pop, O-Town's debut album features more mature subject matter than one might expect from a brand new average pop band. The first single Liquid Dreams is already a best-selling hit. O-Town ventures into a glossy Girl (a Michael Jackson inspired R&B track), piano-driven balladry All Or Nothing and even straight-up rock Love Should Be A Crime, which could easily be mistaken for a Bon Jovi track. The band digs a little deeper with its R&B/ hip-hop beats on the 70's laced funk Take Me Under, dance classic Every Six Seconds and the Diane Warren- penned Baby I Would. An album worth checking out.
Steps - Buzz (HMV)
***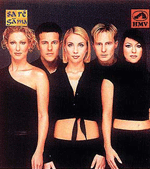 When a formula works, why change it? This has probably been the philosophy behind Steps' third album. In the run, Steps has managed to sell more concert tickets than Spice Girls and more albums than Westlife. Undoubtedly, the group is today one of the most successful pop bands. Like both of their previous albums, Buzz starts off with their most recent singles, and probably the strongest songs on the album. The opener Stomp is a 70's disco-influenced track with a lot of punch. It's The Way You Make Me Feel was the band's Christmas single for the year. It's particularly reminiscent of ABBA with well-crafted pop hooks. Summer Of Love seems to be a successful attempt to treat the listeners with Latino music. Better The Devil You Know will sound familiar, a remake of Kylie Minogue's 80's hit track. You'll Be Sorry offers some fairly catchy melody but somehow fails to gel with the soul-stirring lyrics. Learn To Love Again is a Marc Almond'esque song written by band member Ian 'H' Watkins. The other member Lisa Scott- Lee showcases her writing skills in Never Get Over You. Wouldn't Hurt So Bad and If You Believe are perfectly handled ballads. The album is overall a mixed bag. A song each to suit everybody— have your pick.
Album of the month
Coldplay - Parachutes (Virgin Records)
Just an album old and this talented bunch of Britons are already being hailed in Britain as the next Radiohead or Travis. Their version of moody melodic rock with melancholy lyrics does resemble Radiohead at times, but behind Coldplay's music lies a thematic element that embraces optimism in the face of desperation. The sound of the album is dominated by Chris Martin's commanding vocals that helms the endeavour with the sweetly serene crooning, pushing Coldplay over the edge and into that abyss where the term infectious becomes the most accurate way to describe the manner in which these songs suddenly become potent.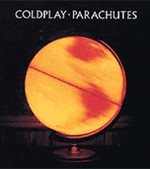 The album begins with a track titled Don't Panic. Subtle, yet paced, the track is an excellent sign of good things that lie ahead. Utilising Martin's high vocal range, Shiver— which in terms of feel and tempo is by far the disc's most outwardly zippy track— moves from impassioned but delicate desperation to a doleful lower octave: "So I look in your direction/ And you know how much I need you/ But you never even see me." Spies jumps back and forth between acoustics to tom-toms and electrics which matches the paranoia tone of the lyrics, while Sparks slows the pace, down to almost comatose. Wonderfully placed piano work makes the lyrics of Trouble quite profound before the album turns to be a bit darker. A ray of optimism is seen at the end when Everything's Not Lost assures you that everything will be all right. Our personal favourite is Yellow, a song that is jaw-dropping in its perfect blend of voice, lyrics and music. It begins with mid-tempo ambling acoustic guitars, breaks into full-on guitar mode, then crests to a chorus, striking in its poignancy. Everything said, the album garners our vote as one of the top albums of all times. Brilliant stuff.
— Saurabh & Gaurav


The Grrr…eat Music Zone Quiz
1.Name the latest album by Radiohead.
2.What Beck Song lyrics does Travis use in the song Slide Show?
3.Which famous musician played bass guitar on Peter Gabriel's second self-titled album?
4.What is the name of the duo formed by Gus Gus members Biggi and Herb Legowitz in the early '90s?
5.Which major line of clothing has Liam Gallagher of Oasis modelled for?
6.What was the name of the album that Yoko Ono recorded right after John Lennon's death in 1981?
7.In which film did Nick Caves And The Bad Seeds appear?
8.What was The Carpenter's first album Ticket To Ride originally titled?
9.Name the band that Mark Hart was a part of before Crowded House?
10. Who is the lead singer of Dru Hill?
Answers
1. Amnesiac
2. Devil's Haircut
3. Tony Levin
4. T-World
5. Versace
6. Season Of Glass
7. Wings Of Desire
8. Offering
9. Supertramp
10. Sisqo
Top 10 singles
1. All For You Janet Jackson
2. Survivor Destiny's Child çè
3. It's Raining Men Geri Helliwell é
4. Uptown Girl Westlife ê
5. Don't Let Me Be The Last Britney Spears é
6. This Is Where I Came In BeeGees l
7. Angel Shaggy çè
8. Jaded Aerosmith ê
9. Mad Season Matchbox Twenty l
10. My Way Limp Bizkit é
é Climbing up ê Falling down çè Non-mover l New entry