M A I N N E W S
A crorepati at 14
Chetna Banerjee
Tribune News Service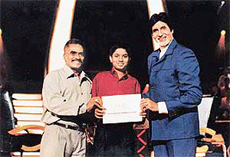 Junior crorepati Ravi Mohan Saini is flanked by Amitabh (right) and his father.
He was not born with the proverbial silver spoon in his mouth. Nor did he have any lucky charm or a fairy godmother to help him with a magic wand. Rather, it was his confidence in his ability to excel that made Ravi Mohan Saini a crorepati at the tender age of 14.
Winner of the Rs 1 crore jackpot in television quiz show Kaun Banega Crorepati Junior on Star Plus, this youngest son of a sailor hailing from Alwar in Rajasthan has suddenly been catapulted from the shadows of anonymity into the limelight of celebrity status. All thanks to his super-confident response to the clincher in the show's 15-question ladder to fortune and fame on KBC.
Sounding poised and level-headed, in an exclusive telephonic interview with The Tribune Ravi fielded questions with an ease and composure quite admirable in one who has become Richie Rich so early in life (never mind that he will have to wait for four years before he comes into the fortune at the age of 18).
The KBC Junior contest was in no way the first challenge to the grey cells of this Class X student of Naval Public School, Vishakhapatnam. Ravi is quite a quiz 'veteran', having been a regular participant in quiz contests from Class IV itself. But the win in "Amitabh sir's class" is obviously the crowning glory of his quizzing career. "I got selected for the show in my third try,"informs this soft-spoken youngster.
Sitting in the hot seat in front of the Big B was certainly a dream come true for this teenager who was accompanied to the show by his father M.L. Saini. "It felt really good being face to face with Amitabh Bachchan. I'd never imagined this could happen. His Sholay is an all-time favourite with me," he gushes.
But the start of the episode was in no way indicative of the things to come. Bust went Ravi's one lifeline in the first question itself! "I exhausted the remaining two lifelines in the 13th question. For the phone-a-friend option, I called up one of my teachers," he says, narrating the countdown to the big moment.
So, having used all his lifelines, what was it that saw him through the last hurdle? Did he use any lucky charm or invoke the blessings of any saint or deity? "Not at all," he is quick to retort, "I was absolutely sure of the final answer."
He, however, says that as of now he has no definite plans about spending the mega bucks."I'll decide when I get the money," he states simply, sounding quite unlike other contestants on the show who usually have grandiose plans like going on a holiday with Aishwarya Rai or taking off on a cruise to exotic destinations. Nor does he mouth the much-touted lines about charity and donating a part of the largesse towards charities and philanthropic causes.
It sure must be thrilling to become a millionaire in one's teens. Even KBC organisers have been maintaining that if the likes of Sachin Tendulkar and Martina Hingis could become millionaires in their teens, why not kids on their show? In view of this debate, does he think that it is ethical for children to be making a fast buck out of game shows? "Well, why not? More than anything else, this game show helps to increase a person's general knowledge," opines this all-rounder. He has interests as diverse as playing cricket, basketball and occasionally hockey.
And now if you're curious about the million dollar, or rather the Rs 1 crore, question, plug in to the KBC Junior show on the morning of July 1 and 8.