Unfortunately, it is in a dilapidated state. Water seepage and the vagaries of weather have taken a very heavy toll. The owner, Raja Rajendra Singh, a sprightly 70 year old who has had a distinguished career not only as the last ruler of Baghal state, but also as a two-time MLA and Commandant General of Home Guards, says disarmingly that no private individual can have the technical or financial resources to preserve such a priceless work of art.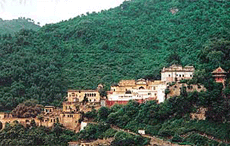 Arki Fort Palace
Most of the fort also is in ruins. A small part of it has been converted into a heritage resort, whose four well-appointed rooms transport you into a bygone era of royal grandeur and splendour. The imposing structure is situated on the southern slope of a precipitous hill. It provides a panoramic view of snowcapped mountain ranges and hill stations of Shimla, Kasauli and Subathu.
The private residence of Rajendra Singh is also in good shape. But all around there are signs of decay. Part of the complex has been lent to Home Guards.
Diwankhana was built in medieval Rajput-Mughal style with a marked Rajasthani influence by Rana Shiv Sharan Singh between 1830 and 1835, although the rest of the fort is much older. Its walls are plastered with kauri choona, a mixture of ground conch shells drenched in a solution of ground lentils and molasses. Most of the murals were painted during the reign of Kishan Singh between 1845-54.
J.C.French, a European traveller who visited the palace during the previous century, and Dr Randhawa have described these as belonging to the Kangra school, but according to N.C.Mehta, the first Chief Commissioner of Himachal Pradesh and art critic, at least some of them have been painted by Jaipur artists.
This is a chamber measuring 35 ft by 15 ft divided into two portions. Some paintings are lost forever but the others surprise you with the vibrancy of their colours. These can be broadly divided into three categories: decorative floral designs, paintings from the imagination of the artists and copies of European picture postcards.
The floral designs and the figures of females, animals and birds are in the Arki style with a strong Guler influence. These have a high quality of craftsmanship. The paintings of Indian and foreign cities copied from the picture postcards are in European style and some other fantastic figures and some battle scenes are considered to be the works of Rajasthani artists.
The paintings are both from Puranic themes and contemporary folk life of that period. Bird and animals, raginis, war scenes, erotic scenes of love and some amusing fantasies of the artists are depicted. A Chinese king and his family are shown with the neck of a horse and the face of a cat. Another raja is shown riding a horse whose tail has been transformed into a woman while the body and legs have pictures of wild cats. An elephant's body has been made to look like that of a wild cat. Its trunk is painted like a serpent and legs like a deer. Some murals show nats and natnis performing tricks. Interestingly, their names (Madni, Gulabkali, Sonchiri and Kadvi) are also mentioned. Rhinoceros and tigers are portrayed as pets.
The pillars have scenes from foreign and Indian ports such as Goa, Florence, Portugal, London and Paris. Again quoting Dr Randhawa, the charm of the compositions arises as much from the instinctive creation of intimacy through the variegated arrangements of horizontal and vertical planes through an original play of imagination as from a sense of humour which introduces amusing details.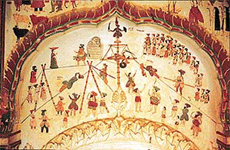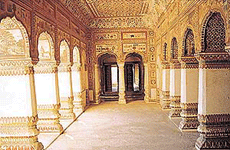 Interior of Diwan-i-Khas (top) Diwankhana frescoes show natwas (acrobats)
Since many of these were done when Pahari painting was on the decline, many distortions might have crept in, but still these are unique in many respects. A pity that these are neither being suitably preserved nor adequately advertised through tourist literature.
The former Raja hopes to renovate more of the fort for the heritage resort. In that lies the only hope for their resurrection. The fort itself is a silent witness to several centuries of history. Raja Ajay Dev created Baghal state in the beginning of the 13th century. He was a scion of the Parmar ruling family of Malwa with capitals at Dhar and Ujjain in Madhya Pradesh. Ajay Dev was the Prime Minister of Malwa, but migrated to the Himalayas after the sacking of Malwa by Iltutmash, the slave commander of Sultan Balban.
After Rana Sabha Chand transferred his capital from Dhundan, he made Arki the capital of Baghal in about 1650. Baghal means the land of leopards while Arki means a sunny place. Rana Prithvi Singh started the building of the present fort and palace in about 1700. Rana Mehar Chand built most of it by 1750 but it was finally completed by Rana Bhoop Singh who shifted from an old palace, which was near the Laxmi Narayan temple and had to be abandoned due to soil erosion, sometime before 1760. He also built additional fortifications and the barracks in the lower terrace that were later used as official courts.
A detachment of Gorkha troops of Amar Singh Thapa attacked Arki in 1805 but was repulsed. Rana Jagat Singh had to vacate the fort in 1809 and stay near Ropar and Nalagarh. Thapa made it his headquarters for western Himalayas from Garhwal to Kangra. Five years of his rule are a period of untold atrocities on the local populace. Killing a person for even a minor indiscretion was very common. Under the Gurkhas, the western Himalayas from Nepal to the Sutlej became a desert because the invading army took away the produce. A 1908 gazette of the hills mentions that when they left, only one man in ten thousand could read and write.
In 1814, Rana Jagat Singh attacked Arki with the help of British General Ochterlony and Rana Nalagarh and recaptured it.
In 1857, and thereafter, the Arki family sided with the British and Rana Kishan Singh was given the title of Raja.
Amidst these buildings of imposing architecture, a kutcha structure stands incongruously. Rajendra Singh reveals an interesting story about it. One of his ancestors had several wives. While the eldest one did not beget any issue, one of the younger ones got pregnant. The zealous rani ordained that no queen whose child could succeed the throne should give birth in a palace or a pucca house. She then performed sati, although her husband was alive. Ever since, ranis went into labour in that particular kutcha house. Rajendra Singh says his father, Raja Surendra Singh, was not only born there but also led an austere life in it.
Rajendra Singh has now devoted himself to compiling an authentic historical record of the area. He has himself played a leading role in making this history. He was born on February 29,1928, and was educated in Col Brown's School, Dehra dun and Government College, Lahore. He succeeded to the gaddi in 1945 as a minor and was given full powers in 1946 when he came of age. He ruled only till March 8, 1948, when the state was integrated into Himachal Pradesh.
During his brief rule, he overhauled the administration and introduced radical constitutional reforms. When Sino-Indian hostilities broke out, he volunteered his services to the war effort. Lal Bahadur Shastri, then the Home Minister, asked him to organise the civil defence in Himachal Pradesh and also raise a volunteer force of Home Guards. He was consequently appointed Commandant General of Home Guards and Director, Civil Defence, Himachal Pradesh, in a rank equivalent to a Major-General of the Army and an Inspector-General of Police. He worked in an honorary capacity for a number of years till the privy purses of rulers were abolished.