Sunday, July 1, 2001
Sunday Activity
How to organise your cupboard
Add an extra hanging rod in a wardrobe half way down to make two-tier storage for short items such as blouses.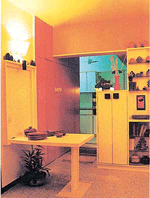 Small containers keep shelves tidy
Expanded curtain wire fitted across a wardrobe, door is easy to fix with screw hooks and eyes, and is useful for holding ties and belts. Add a few clothes pegs if you find they slip off.
Fit extra shelves in a large deep cupboard—run these around the edges and across the back in a 'U' shape, so that you still can get at the shelf below.
Fit shallow shelves with a retaining edge all around, or wire storage racks; inside the doors of cupboards. In kitchens these can hold packets and small jars and in bedrooms, socks or aerosols and bottles. Make sure the shelves inside the cupboard are set far enough back to take the added door depth.
A plastic shoe tidy will make a container for all kinds of small items.
Make an upright divider for a kitchen cupboard. Fix a plywood panel in place between two pieces of beading, pinned and glued in place top and bottom, or use sliding door track.
Shelves make useful extra storage—they are easiest to fit on battens across alcoves. Use them with small storage containers to keep your possessions tidy. You can use shallow baskets, boxes, washing-up bowls, tomato or fruit crates, or wire filing trays.
Line drawers with wallpaper or sticky-back plastic to keep them clean. Cut the paper about 5cm/2 inches larger all round than the drawer. Turn in 5cm/2 inches along two adjoining sides, to the wrong side of the paper. Then place right side face down in the drawer and crease down the other two sides. Turn the liner the right way up and fit into place.
Divide up space in deep drawers, by using shoe boxes or a cutlery holder to hold small items of make-up. Egg boxes or chocolate box liners make good small compartments for jewellery.
Elastic fixed with drawing pins to the inside of a drawer front will hold small bottles upright, i.e. nail varnish.