India eases visa regime
To allow Pak passport holders to come by road
New Delhi, July 9
In another set of confidence building measures aimed at facilitating the visa regime, Prime Minister Atal Behari Vajpayee today decided that henceforth Pakistani passport holders would be allowed to come to India by road and obtain visas at the Attari check-point in Punjab.

Freeze on US-64 may go
UTI dealings to be probed: FM
New Delhi, July 9
The Union Finance Minister, Mr Yashwant Sinha, today held the top brass of the Unit Trust of India (UTI) responsible for the US-64 fiasco but said an alternative package to restore investors' confidence will be ready within a week.
In Education Tribune today
THE TRIBUNE MAGAZINES
On Mondays

On Sundays
On Saturdays
Bhatnagar found guilty
To be dismissed from service
Chandigarh, July 9
A General Court Martial has found Major Maneesh Bhatnagar of the 5th Parachute Battalion guilty of violating good order and military discipline during Operation Vijay in the Kargil sector in 1999 and sentenced him to dismissal from service.
CBI raids yield 3.5 cr from excise officials
Chandigarh, July 9
Sleuths of the Central Bureau of Investigation (CBI) here have so far found unaccounted assets worth Rs 3.5 crore from the homes and offices of five officials of the Excise and Taxation Department, Punjab, following raids by the CBI three days ago.
IN PASSING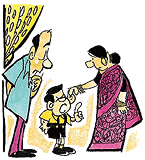 Don't touch me, otherwise I'll tell uncle Musharraf about my human rights!

by Sandeep Joshi
Ajmer, July 9
There is a mixed feeling of hope and anger in this ancient holy city, which will be on the world map for reasons other than the famous Khawaja Moinuddin Chisti's yearly Urs when President Pervez Musharraf arrives here with his wife on July 16 to seek the blessings of the Garib Nawaz.
Scaffolding put up at the main entrance of Khwaja Moinuddin Chisti's tomb to replace the gold work in preparation for President Pervez Musharraf's visit to the dargah in Ajmer.
Punjab may get stick on panchayati raj
Chandigarh, July 9
The Badal government, which continues to dodge the Centre on the empowerment of panchayati raj institutions and elections to block samitis and zila parishads on one pretext or the other, is likely to get stick at a meeting of Panchayati Raj Ministers on July 11 in Delhi. The Rural Development Minister, Mr Venkaiah Naidu, has convened a meeting of the Ministers concerned of all states to discuss important issues pertaining to panchayati raj institutions.
PM to brief all-party meeting today
July 9, 2001
Musharraf softens stand
July 8, 2001
3 Army men killed in ambush
July 7, 2001
PSGPC 'must be on summit agenda'
July 6, 2001
Karunanidhi freed on 'humane grounds'
July 5, 2001
Centre warns Jaya govt
July 4, 2001
Karunanidhi not to seek bail
July 3, 2001
Tamil Nadu Governor resigns
July 2, 2001
Karunanidhi held in pre-dawn swoop
July 1, 2001
Flexibility, but no compromise on basics
June 30, 2001