NC MP's brother shot
Srinagar, July 11
Militants shot dead the brother of a ruling National Conference MP at Pattan in Baramula district this afternoon while a woman was killed and five pedestrians were injured in a grenade attack here, officials said.
In Science Tribune today
THE TRIBUNE MAGAZINES
On Mondays

On Sundays
On Saturdays


A relative wails as a policeman looks on after Nazir Ahmad was shot dead at Pattan, 27 km north of Srinagar, on Wednesday. Nazir, brother of Abdul Rashid Shaheen, leader of Kashmir's ruling National Conference, was shot by militants on Wednesday near his shop at Pattan town.
— Reuters photo
BJP-HVC alliance to stay: CM
Framing of charges against Sukh Ram


New Delhi, July 11
Himachal Chief Minister Prem Kumar Dhumal has said that the Himachal Vikas Congress of former Communications Minister Sukh Ram continued to be a partner of the BJP in the state.
IN PASSING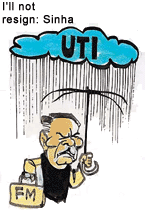 by Sandeep Joshi
Youth dies in police custody
Cops suspended; probe ordered
Rohtak, July 11
The District Magistrate, Mr Anil Malik, has ordered a magisterial inquiry to ascertain the cause of death of 25-year-old Sanjay of Makrauli Kalan village in police custody.
Dhawan expelled from Congress
Chandigarh, July 11

The Chandigarh Territorial Congress Committee virtually split today with the expulsion of AICC member, Harmohan Dhawan from the party by the Congress high command. According to sources, Mr Dhawan was expelled from the party for anti-party activities.
Punjab, Haryana for strengthening panchayats
New Delhi, July 11
Punjab today said it was not in favour of divesting the duly elected Gram Panchayats of its powers by any other direct or indirect way and that a parallel setup would be against the spirit of the Constitution.


Man kills father-in-law, 5 others
Abohar, July 11
Six persons, including four members of the family of Ved Parkash of Dutarianwali Dhani village, 11 km from here, were murdered last night by Ramesh Kumar, a son-in-law of Ved Parkash and his accomplice.
30 pc cut in PDS wheat, rice prices
July 11, 2001
Kashmir not sole issue: PM
July 10, 2001
PM to brief all-party meeting today
July 9, 2001
Musharraf softens stand
July 8, 2001
3 Army men killed in ambush
July 7, 2001
PSGPC 'must be on summit agenda'
July 6, 2001
Karunanidhi freed on 'humane grounds'
July 5, 2001
Centre warns Jaya govt
July 4, 2001
Karunanidhi not to seek bail
July 3, 2001
Tamil Nadu Governor resigns
July 2, 2001
Karunanidhi held in pre-dawn swoop
July 1, 2001