The 'C' segment is also extremely competitive. It has cars at the lower end and the upper end. The same manufacturer may make two different models, one with a 1300 cc engine and the other with a 1600 cc engine. The Maruti Esteem, Hyundai Accent, Ford Ikon, Fiat Sienna, Opel Corsa, Honda 1300 represents the lower 'C' segment. The upper 'C' would be Maruti Baleno in sedan and estate versions, the Altura Mitsubishi Lancer, Opel Astra and three cars from Daewoo, the Nexia, Ceilo and Nubira. All these cars are three box cars with 1600 cc engines. The only exception is Honda City which is 1500 cc. Honda has an exceptional engine and in spite of being 100 cc less in engine capacity than the other cars matches them in performance and fuel economy. All these cars are luxurious and their price varies from about Rs 7.50 lakh to Rs 12 lakh. The Ambassador and Contessa are also in this segment also.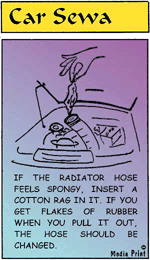 Now for the car in segment 'D' of course it's the Mercedes Benz. From the lowly diesel engine Mercedes to the E, C and S class, Mercedes does reign supreme. However, this year will see some new entrants in this segment. Most notably Hyundai's Sonata, the Honda Accord, the Octavio from Skoda-VW, Opel Vectra, Ford Mondeo, the Camray and Corolla from Toyota and the Magnus from Daewoo. The last car is supposed to be the ultimate in luxury, performance and, of course, price.
Price-wise, Mercedes is again on top. Starting from Rs 25 lakh to over Rs 60 lakh. The other cars are not on the road but they should cost around Rs 20 lakh.
There are some other cars being manufactured in the country. They would fall in the Multi Utility Vehicles (MUV) and Sports Utility Vehicles (SUV) categories. The Tata Safari is the only SUV on the Indian scene. The Maruti Omni, Mahindra's Voyager, Armada, Bolero, Commander, Toyota Qualis and Tata Sumo are MUV's.
The cars mentioned here are from the world's leading manufacturers and they are all available here!
Happy Motoring!