M A I N N E W S
Resolve Kashmir issue once and for all: Pervez
Sees no military solution; Look beyond Kashmir, says Narayanan
S. Satyanarayanan
Tribune News Service
New Delhi, July 14
President K.R. Narayanan today asked India and Pakistan to "build upon" the Simla Agreement and the Lahore Declaration and open a new chapter in their relations even as his Pakistani counterpart, Gen Pervez Musharraf, admitted that there was no military solution to Kashmir and that the two countries must be bold enough to face the Kashmir issue squarely and resolve it once and for all.
Speaking at a banquet hosted in honour of General Musharraf, Mr Narayanan hoped there would be a "structured dialogue" at tomorrow's summit which would lead to the "removal of all obstacles and misunderstandings that stand in our way and pave the way to the solutions of problems and the creation of enduring friendship between the two countries."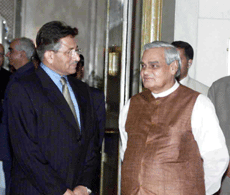 Prime Minister Atal Behari Vajpayee with Pakistan President Pervez Musharraf before the luncheon at hotel Taj Palace in New Delhi on Saturday. — PTI photo

Inviting to work on the basis of the Simla Agreement and the Lahore Declaration, the President said that "at Simla we had solemnly declared that the two countries put an end to the conflict and confrontation that have hitherto marred their relations'.
"It is time to implement this eloquently stated desire of our two countries. The city of Agra, where you would be parleying with our Prime Minister from tomorrow is the city of love as well as the city of reconciliation", he said.
The President stressed that removal of poverty, illiteracy and ill-health in the subcontinent should be the overriding factor in Indo-Pakistan talks at Agra.
Mr Narayanan said that while history had left behind many issues and problems between our two countreis, but the major and the overriding issue for the millions that inhabited the sub-continent was that of poverty, illiteracy and ill-health, in short general and massive deprivation.
Dwelling at length on the need for more people-to- people contact, the President said, "Let us remove all impediments in the path of interaction between our peoples. Let our scholars, artists, writers and professionals, and above all, our common people meet freely and sense the warmth of fraternal friendship. Let us join our forces and the talents of our gifted people to make development and the blessings of modern science and technology for the benefit of our people. It is only common sense that for this purpose we need an atmosphere of peace and mutual confidence between us."
Speaking on the occasion, General Musharraf said there could be no "military solution" to this (Kashmir) dispute and it could and must be resolved peacefully.
"The Jammu and Kashmir dispute continues to block progress towards normalisation of our relations," General Musharraf said, adding that "our capabilities and responsibilities in the new century no longer offer us the option of continuing on the path of a sterile impasse, continued hostility and mistrust".
General Musharraf said he was deeply committed to finding a path towards normal relations between India and Pakistan and asserted that India and Pakistan must not allow the past to dictate the future.
"As neighbouring countries, we need to bridge the gulf that divides us. I come to India with this purpose," General Musharraf told the distinguished gathering at Rashtrapati Bhavan that included Prime Minister Atal Behari Vajpayee.
Stating that the nuclear status imposed new responsibilities on the two countries, the Pakistan President said, "We must overcome the burden of history. Other nations have done it. We must also do so."
Stating that the legacy of the past years was not a happy one, General Musharraf said India and Pakistan had been through wars, blood had been spilt and precious lives lost.
"The two countries have paid a heavy price for being locked in mutual suspicion and hostility," he said, adding that "the children of Pakistan and India must not be made to live under a constant shadow of the conflict."
Noting that regions around the world were focusing on reducing tension for economic prosperity, social well-being and poverty alleviation, General Musharraf said he would like communications to open, trade to flourish, mindset to change and stereotypes to disappear.
Recalling Mohammad Ali Jinnah's vision of good relations between the two countries, he said , "This vision is not beyond our grasp... I have come to India because I would like to do everything possible to realise the dream of the Quaid-e-Azam."
He pointed out that his presence in India brought to an end a hiatus of more than two years which had not served broader interests of either side.
Praising Mr Vajpayee for his "wisdom and dignity", he said his meeting with the Prime Minister earlier today was "extremely rewarding".
Earlier, President Narayanan, in an indirect reference to militancy and terrorism said, "We have to rule out violence from our relationship. We seek friendly and cooperative relations with all states, particularly with those in our neighbourhood. We believe that our region has to progress together even while each state safeguards and develops its individual and distinct personality and its own chosen way of life."
"India continues to support and strengthen SAARC on the basis of the well-thought out charter of the organisation. I believe that if India and Pakistan can establish normal bilateral relations, SAARC will be transformed into a dynamic regional organisation, Mr Narayanan stressed.
"The present visit, on any reckoning a historic one, will open a new chapter in the relations between our two countries that will enable us to walk together on the high road of peace and friendship to our common goal of progress and prosperity," Mr Naryanan said, expressing a hope.
"In 1945-46, when the partition of India appeared inevitable, Jawaharlal Nehru, sitting in a cell in a British jail, wrote in his book 'The Discovery of India' and I quote 'It is obvious that whatever be the future of India, even if there is regular partition, the different parts of India, will have to cooperate with each other, in a hundred different ways'.
"And after Partition, he declared his belief that 'it is to India's advantage that Pakistan should be a secure and prosperous state with which we can develop close and friendly relations.' Quaid-e-Azam Mohammad Ali Jinnah, expressing the same sentiment to the Press, said that 'now that the division of India has been brought about by a solemn agreement between the two dominions, we should bury the past and resolve that, despite all that has happened, we shall remain friends'.
"There are many things which we need from each other as neighbours, morally, materially and politically, and thereby raise the prestige and status of both the dominions", Mr Narayanan said.
"It is this vision of the future articulated by the leaders of both our countries that we have to pursue as the unfinished agenda of partition for resolving all differences between us and for ensuring peace and prosperity for our peoples.
"India is home to one-sixth of humanity. It is a nation of unparalleled diversities, held together by the spirit of tolerance, by its policy and practice of secularism, and its deep attachment to democracy.
"The words of Emperor Ashoka still rings in our ears,'All sects deserve reverence... By thus acting, a man exalts his own, and at the same time does service to others'. It was the same message that Akbar the Great proclaimed. I recall the words of Quaid-e-Azam Mohammad Ali Jinnah in the Pakistan Constituent Assembly when he referred to the tolerance and goodwill that Emperor Akbar showed to all as something that should be followed and practised. We, in India, hold fast to the fundamentals of tolerance and secular democratic principles and it is our conviction that on the basis of these principles India and Pakistan can regulate their relationship to one of genuine peace, friendship and cooperation," he said.