Sunday, July 15, 2001
Bridge
Points for holding honours
by Omar Sharif
TO score points for holding honours always strikes me as unfair — if you are lucky enough to be dealt all four Aces, for example, why should you be given an extra 150 points as well? Mind you, an obsession with honours can lead you to the wrong contract. I watched this hand recently.
South dealt at love all and opened One Diamond. North raised to Three Diamonds and South plunged to Six No-Trumps to end the bidding.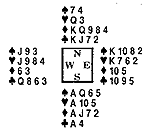 With the King of Spades well-placed the slam in Diamonds would have been a fair proposition but Six-no-Trumps, with only nine sure winners, was a highly-speculative affair.
West did well to lead a Diamond, giving nothing away and declarer won in hand. He started by leading a low heart to the Queen and King.
Hoping to put South to an immediate guess, East led a Spade and declarer finessed the Queen successfully. It is true that further finesses, in Clubs and Hearts, might have led to twelve tricks — but South rightly decided that that would be pushing his luck too far.
Instead, he played off the Ace of Hearts and followed with four more rounds of Diamonds.
West had to keep the Jack of Hearts and all four of his Clubs for his last five cards. You can see what happens if South plays off his Ace of Spades — West has to discard a Club and then the Ace followed by a finesse of the Jack brings in four Club tricks.
South's play was on a par with his bidding, however, for he played on Clubs first. Now West was in no trouble for discards and the slam failed.
Said South brightly: "150 for honours!"