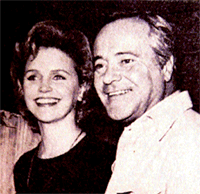 Jack Lemmon with actress Lee Remick

Following this naval fiasco, he left home for New York to become an actor. He got a job playing the piano at a beer-hall-cum-movie theatre. "I played the piano for silent films for $13 a week. I was also a waiter between shows. It was invaluable experience, because although I hardly made anything, watching Charlie Chaplin and Buster Keaton night after night was like a Harvard education in comedy technique," he said.
In 1953, he started his film career with It Should Happen To You. His first big success was, ironically, a naval comedy, Mister Roberts (1955). Undaunted by the presence of veterans like Henry Fonda, James Cagney and William Powell, Lemmon, as the opportunistic ensign Pulver, stole every scene he appeared in. The performance won him an Oscar for best supporting actor.
Billy Wilder's zany romp Some Like It Hot (1959) rocketed him to stardom. Lemmon remained in drag for the better part of this classic comedy. He played Jerry, a small-time musician, who along with his partner Joe (Tony Curtis), dresses up as a girl while fleeing from gangsters and joins an all-female jazz band. The plot thickens when a rich playboy falls for Jerry and starts courting her, leading to one hilarious situation after another. Lemmon was an absolute riot in the movie, as he superbly blended physical and verbal comedy.
Following the success of Some Like It Hot, Lemmon again teamed up with Wilder in The Apartment, a satire on the American business world. He portrayed a promotion-hungry clerk who lets his bosses use his apartment for their illicit love affairs. However, when he falls in love with his chief's mistress, he sheds his opportunism and chooses love over career advancement. His superb performances in these two movies earned him Oscar nominations but he lost both times, first to Charlton Heston (Ben Hur) and then to Burt Lancaster (Elmer Gantry).
Lemmon and Wilder formed one of the great actor-director pairs of Hollywood, not far behind John Wayne and John Ford or Humphrey Bogart and John Huston. "I would like to spend the rest of my life doing nothing but Billy Wilder films," the actor said in an interview in 1969. "Happiness is working with Jack Lemmon," said the director.
Yet another Billy Wilder comedy, The Fortune Cookie (1966), launched Lemmon's screen partnership with Walter Matthau. The duo delighted audiences in several movies, the best being The Odd Couple (1968), in which they played two divorcees—one obsessive about cleanliness (Lemmon) and the other an incorrigible slob—trying to live together. They were also in good form in Grumpy Old Men (1993), as old rivals fighting over the affections of their new neighbour. The "odd couple" was separated irrevocably when Matthau died last year.
As Lemmon acted in quite a few comedies, some critics saw only his funny side. He thus found it hard to break the stereotype of a comic actor. To some extent, he succeeded, with some meaty, intense roles. In Tribute (1980), he played a Broadway press agent who discovers he is dying of a blood disease and wants to patch things up with his ex-wife and son. Lemmon delivered a powerful performance in French director Costa-Gavras' political thriller Missing (1982),in which he was cast as Ed Horman, a man whose journalist son disappears during the 1973 coup in Chile.
Lemmon won the best actor Oscar for essaying the role of a struggling businessman on the horns of a moral dilemma in Save the Tiger (1973), one of his lesser-known films.
Twice married, his first wife was Cynthia Boyd Stone, from whom he had a son, Chris. The son's efforts to make it big in Hollywood, however, came a cropper. When he did a dud called The Happy Hooker Goes To Hollywood, the disgruntled dad was blunt enough to tell him: "That's one of the worst pieces of shit I've ever seen and you stank." Lemmon married actress Felicia Farr in 1962, and they had a daughter. Felicia and his two children were at his side when the sad end came.