Sunday, July 15, 2001
Movie Magic
Fortune smiles on Fardeen
Madhur Mittal
FORTUNE is one funny (and fickle) fantasy in filmland, my friends. Like, you can never tell whom it's suddenly going to favour ... and whom it's going to unceremoniously dump! You want an excellent, eminent example? Okay, let me give it to you all — our (now) very own, Fardeen Khan!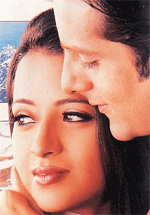 Fardeen Khan with Raima Sen in Hum Ho Gaye Aapke

Remember the awkward, unsure youngster who, despite being successful (and debonair) film-maker Feroz Khan's only son, who shied away from acting in Hindi Phillims like a hounded rabbit, yeah? Well, whether he wanted to or not, Fardeen was presented to the cinegoers on the silver screen with all the tinsel trappings that film-maker Ramgopal Varma could conjure up, in his debut movie Jungle (but 'naturally' with the sexy, semi-clad Urmila Matondkar!)
Well, the film was neither a superhit nor a miserable flop ... but, for (the jittery) newcomer, it was way ahead from the pathetic picture, Prem Aggan, that dad Feroz had made for him! That's one rusty reason I didn't call it his debut; I mean, nobody wants to remember it or be reminded of it at all!
Cut to today. The here and now. Fardeen Khan is scorching hot property ever movie mania mined after Hrithik Roshan, imagine that! So what if he was nabbed by the narcotics cops buying cocaine past midnight at a deserted bank's ATM? His personal ATM (attitude, testiness, morale) is doling out crisp monies by the multi-millions even as I type this! Big banners, big films, big (ger) bucks are all chasing Fardeen — phew! Pyaar Toone Kya Kiya, Hum Ho Gaye Aapke, Love Ke Liye Kuchh Bhi Karega — the prized offers are simply pouring in, hey! (Self-appointed emperor, no, not Pak's Pervez Musharraf, but badshah Shah Rukh Khan, had better scamper off into oblivion!