Sunday, July 15, 2001
Sunday Activity
Bust those odious rust stains
COME monsoon and you find those odious brownish spots or layers appear on metallic surfaces and clothes. These are nothing but rust marks and are a common sight during the rainy days.
If you are using a metal wire as a clothesline, chances are that it will develop layers of rust, which in turn can stain the washed clothes hung on it.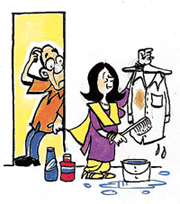 You'll find rust stains appear on metallic surfaces like sinks, iron furniture, hooks, hinges and knobs, too.
Here are a few steps to tackle rust stains or deposits on various materials or surfaces:
To remove light rust marks from sinks and vitreous enamel surfaces, rub with a lemon.

For getting rid of stubborn stains from these surfaces, scrub with a paste of borax and lemon juice.

Rusty hinges should be lubricated with oil.

To remove general rust stains from materials, rub with paraffin-soaked steel wool. If the stains are too stubborn, then soak the material itself in paraffin and then scrub with steel wool.

To remove rust marks from washable fabrics, rub with lemon juice and salt and then dry in the sun.

Alternately, you can rub lemon juice on the affected area and let on steam from a kettle on to the fabric for two minutes.

For very stubborn stains you can boil the cloth in a solution of 4 tbsp cream of tartar mixed in 500 ml of water. Rinse after a while.

To get rid of rust marks from non-washable materials like carpets, use rust removers available in the market or seek professional help.

Scrape off rust from wrought iron furniture with the help of a wire brush. Then sand down with a medium-grit silicon carbide paper. Finally, scrub off with steel wool. Clean the surface with paint thinner and apply rust-resistant primer.

To remove rust stains on concrete, scrub with a mixture of half muriatic acid and half water.
How to prevent rust
Use only rust-proof aluminium, stainless steel or galvanised nails and screws in areas exposed to moisture.

Apply a rust-resistant primer on any exposed metal piece.

Rub a few drops of light oil on tools and appliances that you store in a damp cabinet or drawer.
(Compiled by Chetna)