Sunday, July 15, 2001
VIP Toon Tales
Ranga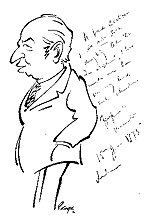 AFTER having failed to get the signature of the then Prime Minister of Pakistan Zulfikar Ali Bhutto during the Simla Conference, I approached Mr Piloo Mody, his boyhood friend, who was going to Pakistan to spend some time with him. He took the cartoon with him with the intention of procuring his autograph on it and handing it over to me on his return from Pakistan.
He spent a good lot of time with his friend Zulfi, as he affectionately called him. He also managed to get his autograph on his cartoon but not without his comments. His comments looked pungent but all the same carried much value for the reason that he took pains to write at length.
He wrote, "A bad cartoon. I do not look anything like this. For instance, I have much more hair on my head and elsewhere." He, no doubt, was unhappy with me for not showing sufficient hair on his head but he made up by giving sufficient comment.