USA for substantive leap in ties: General Shelton
Tribune News Service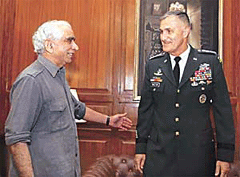 External Affairs Minister Jaswant Singh with General Henry H. Shelton, Chairman, Joint Chiefs of Staff, USA, at South Block in New Delhi on Thursday.



The Indian Chief of the Army Staff, General S. Padmanaban, with General Henry H. Shelton at South Block in New Delhi on Thursday.
— PTI photos
New Delhi, July 19
There were indications available today that the USA was likely to lift the post-Pokhran sanctions against India with the Chief of the US Armed Forces, Gen Henry Shelton, saying that Washington and New Delhi were poised for a "substantive leap" in military-to-military relations.
Emerging after a 30-minute meeting with Defence Minister Jaswant Singh, General Shelton, the first-ever Chairman of the US Joint Chiefs of Staff to visit India, said: "There is a common desire on the part of two countries for a substantive military-to-military relationship".
"The sanctions are being reviewed in Washington even as we speak and a decision will be made in a while".
The US commander is in India in the backdrop of Washington's efforts to establish military-to-military contact with India, which had suffered a setback after the Pokhran tests. The Bush administration has been debating on removing the sanctions against India as it believes that they have been counter-productive.
In a packed day's schedule, during which he spent a lot of time in South Bloc, General Shelton met the Chairman of the Chiefs of Staff Committee, Admiral Sushil Kumar, the Army Chief Gen S. Padmanabhan, Defence Secretary Yogendra Narain and National Security Adviser Brajesh Mishra.
He also held a separate meeting with the Chief of Air Staff, Air Chief Marshal A.Y. Tipnis, at the Air Headquarters and later told newspersons "I had a great interaction".
General Shelton indicated that the present dialogue would that be carried forward saying he had invited Adm Sushil Kumar to visit the USA.
The US armed forces chief started his day by laying a wreath at Amar Jawan Jyoti and was presented an impressive tri-services guard of honour in the lush green lawns of South Bloc before beginning his hectic schedule. He was also given a 45-minute tri-services briefing.
Resolution of conflicts in a peaceful manner was important, General Shelton said. During his meetings with Mr Jaswant Singh and Mr Mishra, General Shelton was briefed about India's position at the recent Vajpayee-Musharraf summit.
He condemned international terrorism and stressed on exploiting the potential of the USA and India to address the issue together.