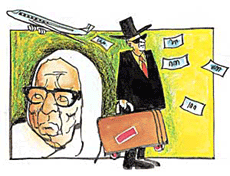 What was even more pathetic was Harjinder Kaurís saga. Her son Jagga, came and settled in Southhall 25 years ago, which is a recreation of a Punjab town in Britain replete with bright parandhis swaying outside shops, jalebis sizzling in pans and Daler Mehandi blaring his songs. The differences being the apparel of the people, their Indian dresses are covered with large furry coats. Jagga came virtually penniless when migration rules were easier, became a taxi driver, today he has a good house, a car and his children rattle clipped British English. So, as he reached the echeleons of prosperity, he got his mother from the village, since she would be an asset in looking after the children, his wife began to work in a factory so pennies amassed into thousands of enhancing pounds in the family kitty.
When I visited Jaggasí house, there was a general sense of contentment, as they displayed their renovated house replete with all other gizmos and consumerist paraphernalia. Jagga showed of all that he had bought and his wife nodded with glee they were no less than anyone else they knew and were much much superior to the village folk left behind. As they bragged, their children were too busy with the home theatre and computer games, Harjinder Kaur smiled at her sonís prosperity and her English grandchildren, who barely ever spoke to her but the smile never seemed to reach her eyes. Suddenly, Jagga sprung another miraculous feat of his prosperity "now I have another flat but actually itís my motherís". I was impressed that the son had brought a flat for his mother, instead of a glow emerging on her face, the eyes began to brim with tears.
I was taken aback that even this financial hat-trick of his had not pleased her, as he left the room, she could not contain herself, "Yes, I do possess a flat, but how? I was told to tell a pack of lies to the council people, that there is no space for me in the house and I am not treated properly, so the Social Security Department has allotted me this", she said. After this, she burst into tears, she continued, "They uprooted me from the sunny skies, familiar sounds and open fields and my neighbourhood for decades. Now they expect me to be in seclusion in a foreign land, since the children have grown up, just to eventually get possession of another property". I felt terribly wretched about the whole episode. So much for Indian culture and family ties we all brag of and the perfect systems of the West which fascinate our fellow countrymen.