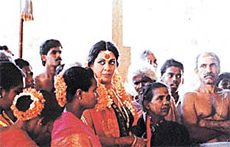 This tradition of sustaining an art form over generations by a unique sense of bonding between teacher and the taught has largely become defunct. At Nrityagram, students get a feel of being at the service of their gurus while staying in the premises and paying for their keep by helping in running the institution.
Fernandes narrates how the village came up: "Gerard D'Cunha, the architect was inspecting the land with Protima. She walked with a stereo player and wherever she felt a strong desire to dance, she struck a pose and dropped a stone to mark the place. Trees were then planted there."
In 1990, the then prime minister, Vishwanath Pratap Singh inaugurated Nrityagram. It was a modest beginning with barely an office and common kitchen overlooking the gurukul — a raised structure with a shed where students took lessons by the day and slept in "dormitory formation" at night.
Since Protima was not charging any fees, funds had to be generated from corporate sponsorships and donations. Within months, money began trickling in and a Mohiniattam Gurukul was established in 1992. Two years later, the Kathakali Gurukul came up, soon to be followed by the Odissi and other gurukuls.
The amount of support we are getting and the interest people show in our cause is amazing," informs Fernandes. "At times, tourists, we would not even notice as they quietly stand at a distance and observe us dance, would go back to their country, collect money on our behalf and send us a cheque."
Says Shweta Krishnan, a young Odissi student: "We get visitors all through the day. But they do not disturb or interrupt us as we practice. For many of them it is a unique experience to see us dance in natural surroundings — although there's Kalakshetra and Shantiniketan which have such open-air schools."
At Nrityagram, beginners are put through a basic three-year course in a particular dance form, which is followed by another three years of a specialised course. After these six years, should a student want to learn more, s/he is free to stay on.
" Many students return after a few of years of passing out in order to give back to the institution a part of what they had received," says Fernandes. "We take them as teachers. It's an open house here. Why, we have Shrupa, taught by Protima in the first batch 11 years ago. Today Shrupa is taking classes here.
Nrityagram dancers also visit nearby villagers regularly to "share their art" with aspiring dancers. They also travel to foreign countries on invitation to perform. Overseas students from reputed dance institutes are also received as part of an "exchange programme".
"The girls have to learn Sanskrit shlokas, yoga, the scriptures, creative movements, poetry, mythology and ancient literature," explains Fernandes. "As the programme is free, we insist they have a passion for learning and observe basic discipline. They also have their own set of duties in running Nrityagram."
Adds Krishnan: "Our dance style may look contemporary, but there is nothing about it that is not authentic. Our training is vigorous and we have incorporated muscular training or pillattes as part of four daily regimen. This helps us remain fit and keeps alive the fire in our belly, to excel!"