M A I N N E W S
Barjinder Singh behind appointment?
SP Singh takes over as VC of GND varsity
Varinder Walia
Tribune News Service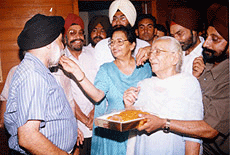 Dr Surinder Pal Singh being congratulated by wife, mother and others with sweets on Monday.
—Photo Rajiv.

Amritsar, July 23
Dr Surinder Pal Singh, Dean, Colleges, becomes the first Professor of Punjabi to become Vice-Chancellor of Guru Nanak Dev University, established in 1969 after the name of the first Sikh guru.
Dr S.P. Singh assumed charge this evening. He is the first Dean to have become Vice-Chancellor of the university.
Though Dr S.P. Singh evaded direct questions, it seems that media barren Barjinder Singh Hamdard, Managing-Editor, Ajit played a vital role in his appointment. Mr Hamdard and Dr S.P. Singh have been classmates, both in school and college.
Dr S.P. Singh said he had been in touch with Chief Minister Parkash Singh Badal for a while as the latter would take him to his home-district of Muktsar for suggestions on promoting computer education in rural areas. He said in his capacity as Dean, Colleges, he had streamlined education in colleges.
Giving details of his priorities, Dr S.P. Singh said he would lay greater emphasis on research and quality education at the campus and colleges during his three-year term. He said there would be no witch-hunt as team work was required to streamline the university functioning.
Dr S.P. Singh said Punjabi University had done a lot for the promotion of the Punjabi language. He said he would endeavour to get regular annual grant for the promotion of the language on the pattern of Punjabi University so that "our rich heritage can be preserved". He said being the Head, School of Punjabi Studies, he had set up a museum for folk articles. "Now in my capacity as Vice-Chancellor, I will make more efforts in this field."
Dr S.P. Singh said there was a need for popularising information technology at the university and college level. More and more emphasis would be given on basic sciences and other fields so that students could find placement at the world level. Answering another question, Dr S.P. Singh said Punjab had yet to follow the model of the South which had witnessed information revolution. "Our education can sustain at the world level if best education is disseminated to the students. I will ensure that the university witnesses overall development during my three-year tenure", he said.
Earlier, the Governor of Punjab, Lieut-Gen J.F.R. Jacob (retd), in his capacity as Chancellor of the university, through a notification issued by Punjab Raj Bhawan, appointed him as Vice-Chancellor of the university for a period of three years with effect from July 23.
Dr S.P. Singh did his post-graduation in Punjabi from Panjab University, Chandigarh, and Ph.D from Punjabi University, Patiala. Dr S.P. Singh, who has 33 years' of teaching and research experience, started his career as Lecturer at GGN Khalsa College, Ludhiana, in 1968. He joined the Punjabi Department of Punjabi University, Patiala, as Lecturer in 1978. In 1985, he joined Guru Nanak Dev University as Reader and was elevated to the post of Professor. He became Head of the School of Punjabi Studies of this university in 1998. He was appointed Dean, College Development Council, on June 2, 1997.
He has supervised 20 Ph.D thesis and 45 M.Phil dissertations. He has published 22 general books, work books and anthologies. He has written/presented 60 research papers, 210 articles, 525 abstracts and reviews and attended international conferences in the USA, Canada, the UK and Switzerland, 50 national conferences and 200 regional conferences. He has organised 15 international and national conferences.
He has been honoured with the "International Award for Immigrant Literature" by the NRI Sabha. The University Grants Commission has awarded him a major project on Punjabi literature by immigrants. Similarly, Guru Nanak Dev University has assigned him a research project on the subject. He is a Fellow of the Punjab Sahit Akademi, Chandigarh.
He has so far held the position of Syndic, Senator, member of the Academic Council, Research Degree Committee and Research Degree Board of Guru Nanak Dev University and Punjabi University, Patiala. He is also a member of the Punjabi Development Committee of Punjabi University, Patiala, Council for Higher Education (Government of Punjab), Advisory Board (Punjab Language Department) and Punjab School Education Board.
He is vice-president of the Punjabi Bhasha Academy, Jalandhar, Chairman of the Punjabi Sahit Te Sabhiachar Manch, Amritsar and members of the Kendri Punjabi Lekhak Sabha, the Punjabi Sahit Academic, the Punjabi Journalist Association and the Janwadi Manch, Punjab.