Spend 5 minutes more and conquer world
Neelu Grewal
THE uncomfortable combination of heat and humidity has a person looking and feeling tired an hour after stepping out of the house. To get that I-am-set-to-conquer-the world look is just an extra five minutes of your getting ready time.
Bath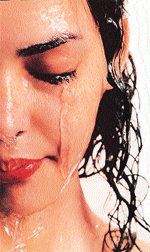 There is nothing more refreshing than starting your day with a cold invigorating shower. Use citrus-based aromatic soaps or shower gels.
1) Bath scrubs take off the dead cells and work wonders for a sluggish circulation.
2) Keep a bath mitt or a loofah whose sloughing action makes you feel clean and glowing.
3) A deodorant is the other important article of your toiletry. In case you are prone to heavy sweating, use an anti-perspirant deodorant.
4) Talcum powders smell good and give you a dry feeling.
Face
1) The face tends to give an oily appearance very soon. Make-up should be light and minimal.
2) Start with cleansing your face with an oil-free cleanser if your skin is oily and a normal creamy one if your skin is on the dry side. With a toner, wipe away any excess residue.
3) If you are using a foundation, use only a water-based one. Heavier ones will run down in streaks down your cheeks, in the heat.
4) Buy yourself a water-proof kohl pencil. With the kajal pencil, you may end up with 'panda-eyes' if you get caught in a sudden shower.
5) Lip-lining pencils should be of good quality and if you wear the lipstick a little beyond your natural lipline, you donít want half the line missing.
6) Translucent power is a must to give your face a finished matt look. As it is colourless, it can be worn on any shade of skin without making it look lighter and darker.
7) Water-proof mascara is another make-up item that you should invest in, especially for those who love the heavily made-up eyes and glossy lips.
Hair
Hair needs to be left as natural as possible.
1) Go in for a good cut, according to your hair texture and face type. Do not go only for your facial structure as your blow-dry will not hold for too long and you will be left with a cut which looked sleek and stunning in the salon but suddenly changed into a wild mop after you washed it.
2) Use hair shampoos and conditioners according to your type of hair. A wrong product can ruin the look.
3) Styling products are freely available and it is a good idea to pick up something which suits your hair cut and style.
Wardrobe
1) Coloured attire brightens up your day especially if the sky is overcast. Go for all the brightest salwar suits, saris or tops. Monsoon loves colour as summer loves white.
2) Natural fibres let you breathe. Cottons and khadis are a wise choice. With the best designers advocating khadi, it surely is a very fashionable fabric.
3) Synthetics trap the air inside the body and bad body odour sets in after a few hours.
4) Diaphanous chiffons and georgettes look good in the evenings.
5) Footwear need not be made of pure leather if you are going to splash around in puddles.
6) Never wear the same shoes two days in a row.
7) Open-toed sandals or strappy footwear lets your feet breathe. Closed shoes should be avoided.
The perfect bag
1) Always carry a small foldable umbrella in your bag.
2) A small deodorant to freshen up is a good idea.
3) Make-up pouch should include a lipstick, a lip-liner, a kohl stick and a compact of translucent powder.
4) Most face pads are refreshing and a must in this season.
Good buys
1) Pondís all day oil control which is priced at a Rs 33 for 60 ml
2) Gilletteís sensor excel for hair-free arms and legs. Priced at Rs 160.
3) Avonís collection of body talc powders.
4) Líorealís concealer-cum-foundation sticks which are powder-based for the face.
5) Chamborís Peach Schnapps lip-colour which is bright and glossy and priced at Rs 295.
6) Pears Naturals milk and besan with apricot seeds scrubs. Available for Rs 23.50 for a 50 ml quantity is good mild exfoliater.