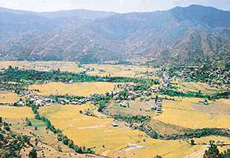 A view of the Karsog valley
Offerings to the deity are in silver. Lord Karan had himself given away all his gold in charity, and, therefore, gold offerings are not accepted. The special day for visiting the temple is Sunday and an annual mela is held every Sanskranti. July 18 is also celebrated as Lord Karanís birthday when the main idol of the deity is brought out for a darshan. The idol weighs about 10 kg and is made in silver. Except for these special occasions, it kept in safe custody under lock and key and is not available for darshan. Once a year, it is also carried to Sundernagar which was a part of Suket state (now in district Mandi) and several rituals are performed there.
How to reach
The drive from Shimla to Mahunag is about 100 km-long. The road is metalled and is in a good condition. There is only one direct HRTC bus from Shimla. The bus starts from Lakkar Bazaar at 11.30 am and reaches Mahunag by dusk. Taxis are also available for making a day trip.
Where to stay
Accommodation is available at the temple and can be booked through SDM, Karsog, on telephone (01907-22236) or through the tehsildar ((01907-22228). The accommodation is makeshift. Food is provided only if an order is placed in advance.
There is a forest rest house about two km from the temple. It has four rooms which can be booked through the DFO, Karsog, on phone number 01907-22205.
A good PWD guest house is available 20 km short of the temple at Chindi. The stay here is comfortable and the view of he mountains is breathtaking. It can be booked through the XEN, Karsog, on phone number 01907-22229. Chindi also boasts of a HPTDC tourist complex. It can be either booked directly on phone number 01907-22638 or through HPTDC hotels in Shimla and Chandigarh.