Sunday, July 29, 2001
Bridge
The wrong contract
Omar Sharif
HAVE YOU ever noticed how when someone reaches the wrong contract they always seem to play it badly?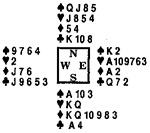 Three No-trumps looks all right for North-South on this week's deal, but South ended in Three Diamonds and — after a neat deceptive play by East — made the minimum.
East dealt at love all and opened One Heart. South over-called with Three Diamonds and all passed. Both North and South had been cautious. North might have essayed Three No-trumps and South might have doubled before jumping in Diamonds.
West led his singleton Heart and East won with the Ace. Without apparent pause for thought he returned the two of Spades.
It had all the earmarks of a singleton, so declarer went up with his Ace and led the King of trumps.
Now the roof fell in: East took his Ace, cashed the King of Spades and gave West a Heart ruff. East carefully chose the ten of Hearts, a clear McKenny signal for the higher ranking side-suit-so West played back a Spade for East to ruff.
Now another Heart lead promoted a further defensive trick for West's Jack of trumps.
When the smoke had cleared the defenders had taken six tricks on a hand where their opponents should have made a game.