Bachchan, on the other hand, personifies the good, a force that goes out to actively battle what is abominable and depraved. Both Bajpai and Bachchan have equal power. Not once does one find Bajpai submissive or cringing.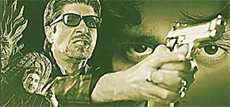 Aks is the representation of the two irrefutable universal truths—good and evil

Till the two forces operate independently, their identities are clear and separate. The trouble starts when both the forces fuse together. This happens when Bajpai is shot dead and his spirit enters Bachchan's body. Hereby starts the duality which consumes Bachchan, who is involuntarily lead on to the path of evil.
Indeed, it is here that the imagery of the 'reflection', also denoted by the title of the movie, is used again and again. When Bachchan looks into a mirror, he sees Bajpai 'looking back' at him, mocking his impotence and challenging his power.
This imagery is reinforced skillfully in the scene where Bachchan is driving a car and the reflection he sees in the rear-view mirror is not his but of Bajpai. And yet again, when Bajpai in Bachchan's body savagely rapes his wife (Nandita Das), Bachchan's reflection looks on helplessly.
Thankfully, the film-maker (Rakesh Mehra) offers no supernatural solutions. Though Nandita Das does take Bachchan to a holy man, but all that the swami has to say is that a human being has to himself battle the forces of evil within.
Aks is probably one of the first Indian films that dares to handle a theme as difficult as this. Till the end, Mehra doesn't take the easy way out. He does not show the evil being eradicated. Though Bachchan is finally rid of Bajpai's 'spirit', the earth is not cleansed of it. Evil simply finds another body to carry out it's chaotic designs.
Although the entire film is an allegory, it works at a more fundamental level, too, with plenty of chills and thrills and exciting song-and-dance sequences, including a strip-tense number by Tandon. The lyrics of the songs picturised on Raveena Tandon talk of darkness (Yeh Raat) or crime (Gunah kar le). The film has an international look to it, it's pace is fastand slick. The performances are spectacular. Still, some actors are wasted in the bit roles they're given, specifically Amol Palekar and Mohan Agashe.
However, the allegory could be too ambiguous, and the theme, although it is rooted in the eternal conflict, too futuristic for the Indian audiences.