VRS for Central Govt staff soon
New Delhi, August 2
The Minister of State for Personnel, Mr Arun Shourie, today informed the Rajya Sabha that the Government would soon come out with a voluntary retirement scheme for the Central Government employees to reduce the existing staff strength as recommended by the Fifth Pay Commission.
TN cocks a snook at Centre
New Delhi, August 2
The Union Home Ministry has landed in piquant situation with the Tamil Nadu government refusing to relieve four senior Indian Police Service officers, including the former Director General of Police, whose services were requisitioned by it recently.
Phoolan murder case: 2 more held
New Delhi, August 2
With the arrest of two more suspects from Roorkee, the Delhi police today claimed to have moved a step closer in solving the sensational daylight murder of the Samajwadi Party MP and former bandit queen, Mrs Phoolan Devi, outside her Ashoka Road residence on July 25.
In Arts Tribune today
THE TRIBUNE MAGAZINES
On Mondays

On Sundays
On Saturdays
Khel Ratna for Gopichand
New Delhi, August 2
Young Olympian shooter Abhinav Bindra of Chandigarh added another feather to his cap when he was selected for the Arjuna Award here today. Hockey player Baljeet

Abhinav Bindra Milkha Singh
Singh Saini and wrestler Randhir Singh are among the 14 nominated for the Arjuna Award while Gurdial Singh Banghu has been chosen for the Dronacharya Award.
IN PASSING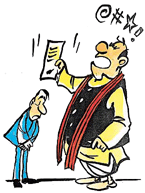 This is my resignation. Show it to the mediamen and file it!

by Sandeep Joshi
Farmers' issue: Badal meets PM
New Delhi, August 2
Punjab Chief Minister Parkash Singh Badal today met Prime Minister Atal Behari Vajpayee and discussed the farmers' issue.
BJP appeasing minorities: VHP
New Delhi, August 2
Vishwa Hindu Parishad President Vishnu Hari Dalmia today accused the BJP of indulging in minority appeasement policy and said the VHP would go ahead with its Ram temple construction plan in Ayodhya despite government's opposition.



Canal rest houses now ghost bungalows
Gurdaspur, August 2
The canal rest houses which were used as 'torture cells' by the security agencies during the days of militancy look like ghost bungalows these days. Though no guest has stayed there for more than three decades, the department continues to give money for their maintenance. A visit to various canal houses, which were constructed during the British regime, have been abandoned for reasons best known to the authorities concerned.
Vajpayee opens his heart
August 2, 2001

Vajpayee offers to quit office
August 1, 2001

Parliament security being revamped
July 31, 2001
Vajpayee to visit Pak
July 30, 2001
Pankaj gets 10-day police remand
July 29, 2001
Report opposes PM-level talks
July 28, 2001
Key man in Phoolan killing missing
July 27, 2001
Phoolan Devi shot dead in Delhi
July 26, 2001
J&K killings are not jehad: PM
July 25, 2001
47 feared dead as truck falls into canal
July 24, 2001