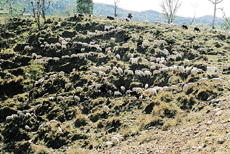 A hilly pasture near Lung
This group of 15 monolithic rock-cut temples, richly carved in Indo-Aryan style, are the only monuments of its kind in northern India. These temples, which cover an area of about 160 ft. in length and 105 ft. in width, date back to 8th-9th century. In front of the temples, there is a large water tank which seems to have been constructed later on. The hillock on which the temples are located rises above a well-watered and fertile track. In the backdrop, you have the snow-clad peaks of the Dhauladhars.
The temples stand in a row and the main temple, in the centre, has three stone images of Lord Rama, Lakshmana and Sita. The temple may have been originally dedicated to Mahadeva because there is an image of Lord Shiva on the lintel of the main shrine. At present only some parts of the temples are intact. Most of the structure was destroyed in the devastating earthquake of 1905, which rocked Kangra district.
The monuments are now being looked after by the Archeological Survey of India.