Bob Marley - One Love: The Very Best Of Bob Marley & The Wailers (Universal)
***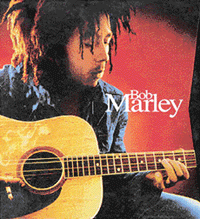 Bob Marley — the most important figure in the music world — undoubtedly remains the biggest reggae artist till date. Before he died of cancer on May 11, 1981, Bob moved the entire world with his deeply spiritual songs of faith and revolution. One Love, a remastered retrospective of the musical icon (his major label-work completed before his death) may well replace 1984's Legend as the best-selling reggae album of all time. One Love presents a feedback-scarred live version and sweet organ-driven No Woman, No Cry, as well as album versions of classics like I Shot The Sheriff, Jamming and Get Up, Stand Up. With a band as classy as The Wailers providing instrumental support (among whose members in the early days were childhood friends Peter Tosh and Bunny Wailer), a groove- driven track like Could You Be Loved changed the complete reggae scene, which was then normally slow paced. Single versions of Exodus and Buffalo Soldier sidle up to the band-cut of Redemption Song and the soulful show stealer One Love/ People Get Ready (Marley/ Curtis Mayfield melody). A fine number dating back to the 1972's Catch A Fire onward, One Love is aimed at the casual Bob fans, rather that the hardcore listeners, though its concluding track I Know A Place is quite a rare feature on Bob's Best of… compilations. Also included are Bob Marley's take on the persecution he faced as a spokesman for his generation- Iron Lion Zion and the Wailers' funkiest track ever Lively Up Yourself. Sure, Bob is a musical legend and a natural mystic but as these songs remind us, he was also a warrior and a prophet.
Lou Bega - Ladies & Gentlemen (BMG Crescendo)
**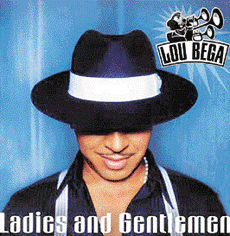 The global pop charts witnessed much-needed style and humour in the summer of 1999 with Lou Bega's reworked version of Perez Prado's 1949 hit Mambo No.5. He adopted a distinctive visual image, a combination of both Kid Creole and Cab Calloway, with a white suit, polka dot handkerchief, spats and Barsalino hat topped off by a snazzy pencil moustache. A Little Bit Of Mambo was an instant hit, propelling Bega from a local celebrity to a global winner. The wider commercial audience won by that release won't be disappointed by this relatively swift, superb follow-up. Combining Caribbean and Latin grooves with thumping disco beats, squealing synthesisers and easy lyrics, Ladies & Gentlemen serves up a stylistically adventurous musical ride. Louis Prima's cover Just A Gigolo gives quite an idea what to expect. The headliners include You Are My Sunshine, God Is A Woman, People Lovin' Me and My Answering Machine. The pulsating electro of Club Elitaire is pure Caribbean, while the hit Angelina is an irrepressibly summer slice of the 21st century. But its Lou himself, who demands attention, his playful, romantic and peculiar vocals always come up sounding freshly laundered. Music-rich enough to satisfy without the fiery seasoning.
Creedence Clearwater Revival - Mardi Gras (Virgin Music)
****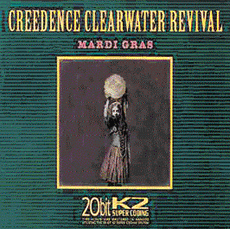 After producing out-of-the-world music in just three years, Creedence Clearwater Revival released their final album Mardi Gras in 1971. Interpersonal tensions became so pronounced within the band that the split was inevitable. This album is an ideal re-introduction to a band that just didn't reap a lot of rewards for their works in '60's/ '70's, but set such high standards for others to follow. Consequently, it speaks volumes for the strength of the band's originals, and some astute recruiting, that mostly works quite well as enjoyable timeless rock n' roll rather than hopeless nostalgia. Certainly such tracks as Tearin' Up The Country, the smash hit Sweet Hitch-Hiker and What Are You Gonna Do continue in the same stylistic vein as earlier albums, mining an idiosyncratic mood of American roots, but something is very gripping about its presentation. Need Someone To Hold and Someday Never Comes has layers of guitar licking, Door To Door launches into its unstoppable rhythm beat with John Fogerty dishing out his talent, Lookin' For A Reason is a cool dude rambler, while Take It Like A Friend manages to maintain a constant speed, piling brilliant guitar-works. Aimed at the Stetson crowd and awash with cover versions, Mardi Gras sounds reclined and breezy. Fogerty's varied, gravelly vocals and the band's truckling guitar interplay, shown in fully inspired form, make a swift line for Mardi Gras.
Album Of the month
Moulin Rouge - Motion Picture Soundtrack – Various Artists (Universal)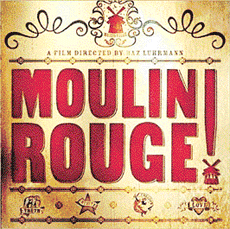 Undoubtedly this is the most sensual, audacious and gripping movie musical since Bob Fosse's Cabaret. For the soundtrack of his latest blockbuster, a story of star-crossed lovers who happen to meet at the famed Paris nightclub, Romeo & Juliet, director Baz Luhrmann has crossed all musical boundaries. The soundtrack showcases a variety of genres and talent, hoping to build anticipation for the film. And it attempts to accomplish this by appealing to the electic edge of pop culture. And, for the most part, it succeeds. David Bowie opens and closes the album with two drastically reworked versions of Nature Boy- the opening track is accented by a dramatic orchestral arrangement, while the concluding version is a trip-hop collaboration with Massive Attack. The album's most talked about single, a remake of La Belle's Lady Marmalade by pop superstars Lil Kim, Christina Anguilera, Mya and Pink, has taken care of the MTV generation. The film's protagonists Nicole Kidman and Ewan McGregor, too, showcase their strong vocal abilities. Most notable tracks being McGregor's version of Elton John's Your Song, Kidman's Sparkling Diamonds (a brilliant cocktail of Marilyn Monroe's Diamonds Are A Girl's Best Friend and Madonna's Material Girl) and the comical Elephant Love Melody, a medley of love songs from such varied artists as the Beatles (All You Need Is Love), U2 (In The Name Of Love) and Thelma Houston (Don't Leave Me This Way). Bono, Gavin Friday and Maurice Seezer make a thumping majestic anthem out of T-Rex's Children Of The Revolution. The most surprising track here comes in the form of Hindi Sad Diamonds, featuring our very own Alka Yagnik with the Bollywood hit number Chamma Chamma. The soundtrack shows that besides being a visionary filmmaker, Baz Luhrmann has got a flair of things musical as well.
— Saurabh & Gaurav


The Grrr…eat Music Zone Quiz
1. Which famous band did Perry Farell begin his musical career with?
2. Name the legendary guitarist who plays on Bryan Ferry's hit single As The World Turns.
3. Which is Rick James' best selling album to date?
4. What is the title of Nelly Furtado's debut album?
5. Name the popular tribute band to Tom Jones.
6. Which Pink Floyd song did Layne Stayley (Mad Season) cover in 1999?
7. What is the latest album by N'Sync called?
8. Which Luther Vandross 1996 track was featured on the broadway musical The Wiz and later also in a Kodak TV commercial?
9. Which famous '80's pop star recently made a come-back with the album titled To Be Frank?
10. What are Neil Primose, Fran Healey, Dougie Payne and Andy Dunlop collectively known as?
Answers
1. Psi Com
2. Mick Ronson
3. Street Songs
4. Whoa, Nelly
5. The Unusuals
6. Another Brick In The Wall
7. Celebrity
8. Everybody Rejoice
9. Nick Kershaw
10. Travis

Top 10 singles
1. Elevation U2
2. Lady Marmalade Christina/ Mya/ Pink/ Lil (FD)
3. Loaded Ricky Martin (CU)
4. Imitation Of Life REM (NM)
5. More Than That Backstreet Boys (CU)
6. Survivor Destinys Child (FD)
7. Pop N'Sync (NE)
8. One Night The Corrs (CU)
9. All Or Nothing O-Town (FD)
10. Turn Off The Lights Nelly Furtado (NE)
(CU) Climbing up (FD) Falling down (NM) Non-mover (NE) New entry